The Best T-Shirt Printing Methods in 2022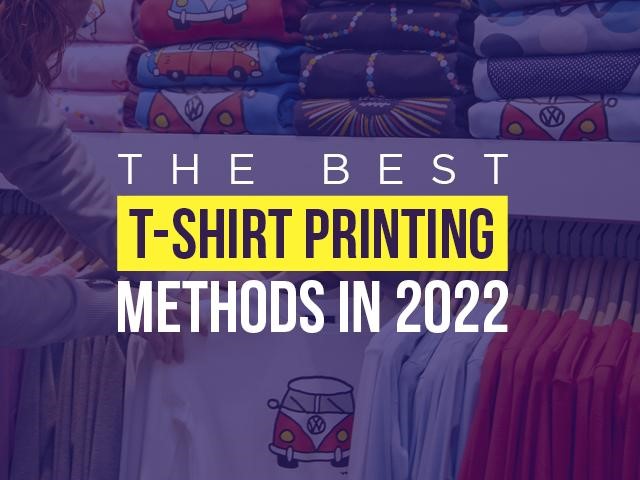 Starting a t-shirt business might sound as simple as creating a design, blank wholesale t-shirts buying , printing, and selling. But there is more to it. There are a lot of factors that you need to consider, like your experience with t-shirt customization methods, the type of designs, the capital, customer preferences, fabric, and so on. One of the biggest challenges, especially for people who are starting out, is choosing a printing method. This article breaks down the most popular t-shirt printing methods to help you choose the right one.
Screen Printing
Screen printing is arguably the most popular t-shirt printing method in practice. It involves a complex process that works by transferring the design onto the garment using a stencil that is held in place using a polyester mesh. This method is preferred by professionals for printing a large number of t-shirts in one go.
Pros
Very profitable for large orders
Durable print
Compatible with most fabrics
Cons
Not cost-effective for small quantities
Initial setup is costly
Steeper learning curve


Direct to Garment (DTG)
DTG allows you to print vivid, full-color, and photorealistic images onto t-shirts. It could be described as an apparel equivalent of printing on paper- you upload the design to the computer, fine-tune the settings, hit print, and the DTG printer will imprint the design on your tee. If you want to print complex and colorful designs on a small number of t-shirts, this is an option worth considering.
Pros
Relatively easy to learn
Can render designs with fine details
Soft finish that barely feels when you touch it
Cons
Good DTG printers are costly
Slow for printing in bulk quantities
Colors start to fade over time


Dye Sublimation


The dye sublimation process starts by digitally printing the design on a transfer paper. When this paper gets heat pressed onto the t-shirt, the dye sublimates and gets transferred to the fabric. Unlike screen printing, the dye is not applied to the surface, but rather becomes a part of the fabric itself and gives you super soft designs.
Pros
Has a smooth finish on the fabric
Very little colors or design restrictions
The design is long-lasting
Cons
Works only on polyester and polyester blends
Comparatively expensive
Difficult to print on dark fabrics
Heat Pressing
This method involves printing the design on a transfer paper and later heat pressing it onto the fabric. While this sounds very similar to Dye Sublimation, the ink does not evaporate or get absorbed by the cloth but gets attached to the surface. If you are new to the field and testing the waters, Heat Pressing is a great place to get started.
Pros
Cheap for printing in small numbers
The process is fairly uncomplicated
Suitable for complex designs
Cons
Not suitable for heat-sensitive fabric
The printing process is longer
Does not work on dark colored fabric
Conclusion
If you are new to the market or want to start small, it is recommended to go for simpler methods like heat pressing. You can simply get the equipment, create a design, get blank shirts wholesale and start pressing away. Once you have a good understanding of the market, you can expand your more ambitious methods like to screen printing or DTG.