Elevate Customer Experience With a Shopify Delivery Date Scheduler
When you visit an e-commerce website, you search for a product, find the right one, and proceed to checkout. However, imagine if you discover that the website only displays the number of shipping days rather than the estimated delivery date. 
This could cause you to lose interest in shopping as you may not want to calculate the delivery date yourself. Most online shoppers expect to know the delivery date rather than the transit time, making an estimated delivery date important for e-commerce stores. 
For a business, it is not just a delivery date but the date of order placement, the number of working days, product availability, processing time to determine the delivery date, and more. All customers want is by when they will receive their order.
Having an estimated delivery date for your e-commerce business offers several advantages.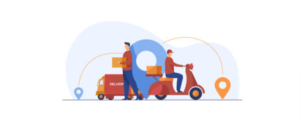 Firstly, it promotes impulse purchases as customers have a clear understanding of when they will receive their order. Secondly, it enhances customer trust and loyalty by providing transparency through regular updates on the product's whereabouts. Moreover, delivery date estimations also help reduce order cancellations, returns, and repeat deliveries, thus, saving company resources.
Let's find out what are the benefits of scheduling delivery and its impact on your business.
Benefits of Scheduling Delivery
Elevate Customer Experience
We all know that convenience is a key factor in online shopping, and customers choose to shop online to avoid crowds and long lines at physical stores. However, if customers have no control over when they will receive their orders, it can lead to a poor customer experience. This could be your loss of loyal customers to competitors that offer the flexibility to choose delivery dates.
Therefore, offering customers the ability to choose their preferred delivery date can greatly enhance their shopping experience. This feature will allow customers to receive their orders at their convenience, making them more satisfied with their overall shopping experience.
Reduce Cost
Allowing your customers to select their preferred delivery date can greatly reduce your company's overall transportation expenses. By delivering products only on scheduled dates or time slots, you can ensure that the customer is available to receive the order, thereby reducing the need for multiple delivery attempts. Thus, it will help you reduce costs.
Reduce Failed Delivery Attempts Counter
When customers are not allowed to choose the preferred date, it is difficult to determine whether they will be available to receive the order at the time of delivery. This lack of communication can result in undelivered orders, requiring additional shipping trips and increasing the number of repeat deliveries.
Implementing delivery date scheduling not only allows customers to choose a suitable delivery date, but it also helps you plan your daily deliveries more efficiently. Hence, it reduces the need for repeat deliveries and increases your profitability.
Easy Communication
Not providing the option for customers to choose their preferred delivery date may lead to additional costs. Most of your staff would be busy resolving the inquiries related to delivery date. Thus, it will consume a lot of your support staff's time. There are chances that you might have to expand your support team to match the incoming requests. 
By integrating a delivery date scheduler into your Shopify store, not only can you reduce the workload but also enhance your company's productivity. Customers can select their preferred delivery date and time slot, which reduces confusion and potential inquiries.
Build Brand Image
Allowing for delivery scheduling and flexibility in delivery options can increase customer trust in your brand. Flexible scheduling encourages first-time customers to return to your store to add positive reviews. All this helps in building brand image. Furthermore, customers also choose to shop after reading the reviews. Hence, a flexible delivery can help you gain more traffic, visitors, and, ultimately, customers.
Conclusion
When you care about your customer's actual challenges and take action accordingly, customers feel heard and valued. Their trust in your brand builds, and they will definitely remember you during their next purchase. If you want the same for your Shopify store, integrate a Shopify delivery date app with your store and unlock all the benefits discussed above.