How can I reduce back and neck pain?
The neck and back pains are linked to nearby joints, muscles, bones, and neurons crucial for supporting and moving the head. Neck pains and backaches can worsen and interfere with daily activities like getting dressed, working, or sleeping. It can range from mild to severe and easily ignored excruciatingly severe. Thus, neck stiffness and decreased range of motion might result from spine pain. If you have chronic backache or neck pain do, consider getting physiotherapy services.
Causes of Neck pain and Backache
There are many reasons why there could be neck discomfort, stiffness, or tightness. Typical causes of muscle tension include behaviors and habits like poor posture. In addition, prolonged sitting at a table or in a chair without changing positions might result in backache and neck pain. Another explanation can be jolting your neck when exercising or lifting heavy weights and sleeping with your neck in the wrong place.
In falls, car accidents, and athletics, the neck is particularly vulnerable to injury because the muscles and ligaments are forced to move beyond their normal range. Injuries to the spinal column result in a sudden jerking of the back, head, and neck, shattering or damaging the neck bones (cervical vertebrae).
Treatments
Backaches and neck pains may be a symptom of medical conditions that affect your nervous system. As a result, the initial point of discomfort spreads to a larger body area, resulting in severe pain. Cervical radiculopathy or pinch nerve pain can be brought on by symptoms that press against or tug on a nerve, such as a bulging disc. Through connected neuronal connections, pain can extend to different bodily areas. Additionally, seeing a doctor as soon as you have severe back pain is advisable, and you can get professional physiotherapy in Dubai, provided by Call Doctor.
Radiating or neck back pain can be brought on by various medical conditions, including sciatica, spinal herniated discs, piriformis syndrome, spinal stenosis, and others. Intense pain may also travel down the legs due to diseases affecting the nerves in the lower back.
Read More: Follow These 5 Lower Back Bodyweight Exercises to Eliminate LBP
Physiotherapy for neck pain
Various early therapeutic options are available when neck and shoulder discomfort first appears. A day or two of rest can be helpful if the discomfort gets worse with specific movements or chores, including doing housework or participating in hobbies. For instance, avoid gardening if it worsens your pain rather than pushing through it. It is vital to make an effort to get moving again after relaxing. On the other hand, prolonged rest might weaken your back muscles, making you more uncomfortable. Additionally, the first few days after the pain starts might be relieved with heat and ice treatments.
Treatment for backache and neck pain
Changing one's seated position
Getting enough sleep
Gentle stretching and workouts
Maintain a fit lifestyle.
Consult physiotherapist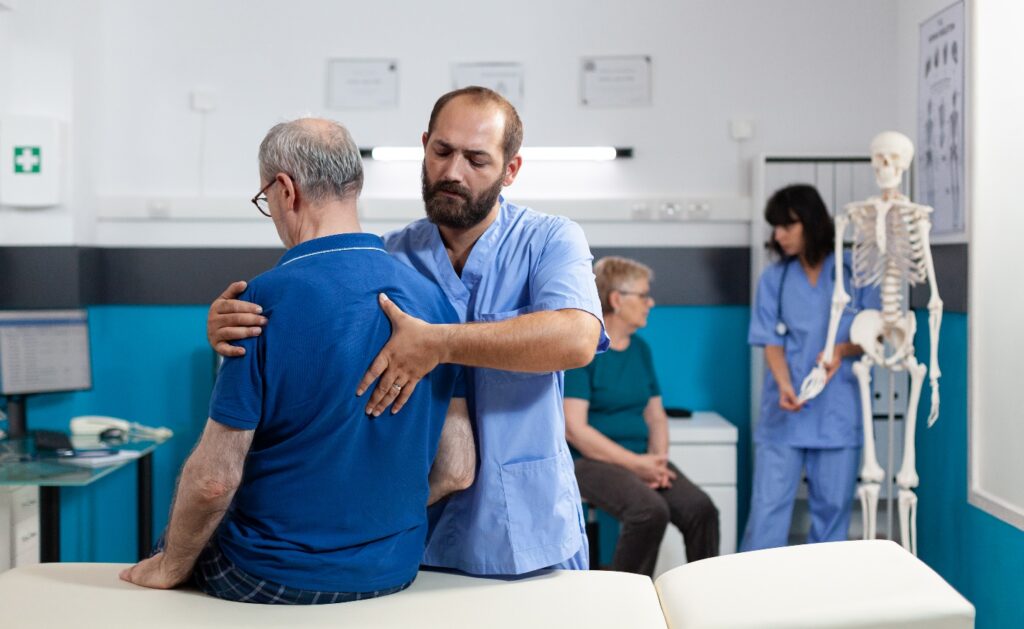 Physiotherapy in Dubai
Call Doctor takes the opportunity to learn about patients' backache and pain and their general health and lifestyle. They take pleasure in making sure that each consultation is comprehensive and in-depth. To provide the framework for creating an appropriate diagnosis and treatment plan, their physiotherapist provides physiotherapy at home in Dubai and will obtain a complete history of pain during the initial session.
Remember to seek emergency medical assistance if you have neck pain or backache that persists or worsens. To get you back to living a pain-free life, Call Doctor professionals will recommend the optimal course of treatment, including injections, medications, ultrasound, physiotherapy, and home healthcare.