An innumerable number of people suffer from the issue of loss of the tooth. Early decaying of teeth along with injury and periodontal diseases are some vital reasons. Earlier, only dentures and bridges were the options. But with the advancement in medical science, dental implants have replaced such painful procedures.
What Are Dental Implants InActual?
The treatment-related to dental implantation refers to the process of replacing the roots of the teeth. Implants are known for providing a strong foundation for teeth that will match your natural teeth. They will help in enhancing the overall look of yours at the best. As they are designed specifically for getting fused with the bone, they can be permanent.
Dentures having poor-fitting features may lead the teeth to slip within your mouth. Finally, it will result in the mumbling of words. You will face lots of difficulties in speaking. Also, the listener will hardly be able to understand your words. With dental implants, you will be able to speak without worrying about the slipping of teeth.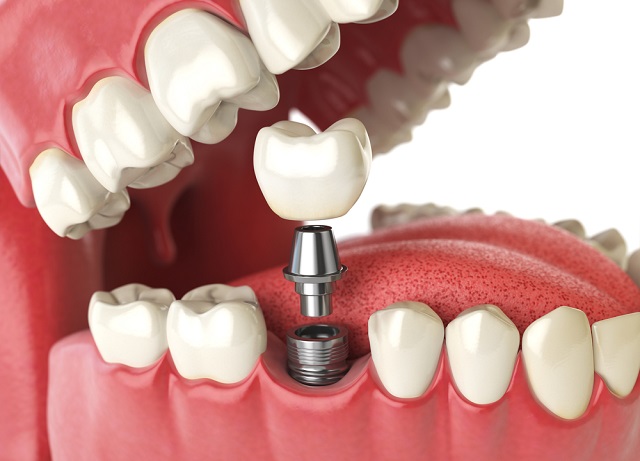 Do Dental Implants Ensure Easy Eating?
It is a fact that sliding dentures make chewing a difficult task. As a result, you may miss enjoying some favourite foods of yours. Dental implants will function like your own teeth, thus letting you enjoy your favourite food without pain and with a high level of confidence. As these implants become a vital part of your mouth, they will help eliminate the discomfort of painful dentures.
With implants, you will be able to get back your smile. Hence, you will be able to feel better about yourself. Unlike tooth-supported bridges, implants do not require eliminating other teeth. It is possible to expect good oral health, thus allowing easier access between teeth.
For How Many Years Do Dental Implants Last?
Some people presume that dental implants last for a short period. It is just the reverse! They last for years, thus permitting you to smile and enjoy the benefits of better oral health. To enhance the longevity of implants, you need to take a little bit of care from your side.
How Dental Implants Help InChanging The Shape Of Your Face?
Teeth help in supporting the facial structure in the best possible manner. Losing teeth will affect the shape of your face and will make you look older. Instead of undergoing costly treatments, it is preferable to go with dental implants as they will prevent changing the shape of your face.
Losing teeth results in loss of bone mass in your jaw. The jawbone requires stimulation after getting connected to the same for maintaining mass. Among all, implants are the only options that will replace the stimulation of jawbone. Finally, you will be able to stay away from the problem of losing bone.
It is better to consult a dental specialist having years of experience in this field to enjoy a superfluous output.
How Dental Implants Help InKeeping Adjacent Teeth Stable?
A missing tooth may result in the adjacent teeth to shift towards the gap. It will not only affect your look but also affect your biting power. You will hardly be able to enjoy chewing your most preferable food. If this prevails for long, then it may result in severe headaches.
With dental implants, you will be able to cater to such problems without undergoing pain. They will let you lead a normal life as usual.
In conclusion, dental implants are inclusive of a wide number of benefits. Along with improving oral health, they ensure the overall well-being of an individual.