1 Drawstring and tie detailing
The first trend of summer that we want to talk about and one that is everyone's personal favorite is drawstring and tie detailing so you'll see a lot of dresses and pants and jackets and sweaters that have this drawstring or tie detailing.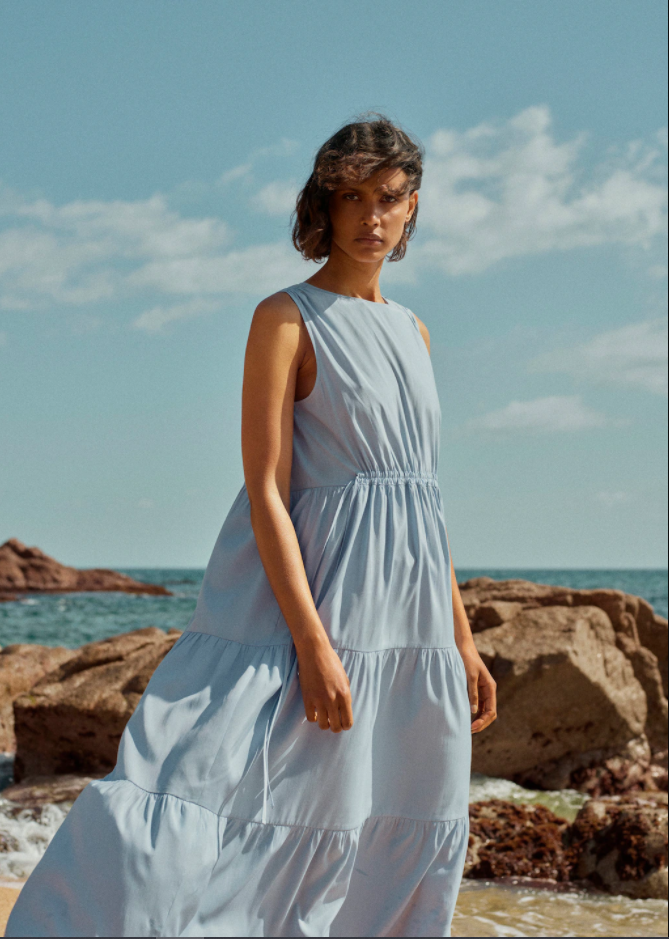 The great thing about it is that they give you the opportunity to create shape in that piece and really make that item fit you perfectly. The drawstrings and ties give you the option just to create some shape and create some good balance in your outfits just so that your proportions are where they should be to create an outfit that's just the most flattering for you.
So for that reason that they are a real style savior and loving seeing them everywhere, there's also drawstrings on shirts and sleeves and tops it's something that is a really good option to choose from and if you've overlooked this sort of trend in the past perhaps give it a little bit of a chance because it really does make getting dressed and creating outfits so much easier.
Style Tip
So a style tip here is don't accentuate the fullest part of your body, so wherever you accentuate wherever you have a drawstring that is going to attract the eye to that area, so if you're carrying most of your weight around your middle, a top or dress with drawstring detail around the waist is probably not going to be the most flattering option for you.
2 Tiered Dresses
Everyone needs a beautiful tiered dress this spring-summer. There are so many options out there, and the tiered detail seems to be the hottest trend for the season. Now you can see lots of the tiered dresses in maxi's but not always.
So if you feel that you're petite and you don't like being swamped by a long floaty maxi dress, there are some beautiful tiered options in shorter dresses as well as some great options. There really is something here for everyone.
These dresses look really pretty, and the reason that they've made it onto this list for me is that they are so wearable they are a great option to dress up or wear more casually so you could wear them to a wedding on the weekend or you could wear them to a brunch with your girlfriends and team them with some trainers they're a really versatile piece and again dresses.
If you haven't been wearing dresses for a while, they are such an instant outfit, so have a look at some of these gorgeous options and consider a beautiful new season tear dress now. They're also not all in florals, so there are some beautiful simple white or gorgeous neutrals on offer as well, but this tear detail is really cool, and it's also timeless.
3 Bermuda Shorts
You will be really happy to see the return of the humble Bermuda short, okay, last season? We had bike shorts, and they didn't fly for a very good reason they're not the most flattering short on the planet and now we have Bermuda shorts which most of you will agree they are much easier to wear this season they're coming in all sorts of different fabrics as well so it's all about texture there's some gorgeous denim beautiful black denim there's also faux leather there are some beautiful linen and linen-cotton blend shorts.
The great thing about these Bermuda shorts is that you can also easily dress them up again they're a piece that is comfortable. It's practical, but you can team them with an oversized double-breasted blazer and you've got a really chic look.
4 Comfy Basics
Maybe it's not even a trend but it is something that seems to be happening and it's happening in a very big way and calling it comfy basics so obviously lockdown has played a hand in this but we see so many gorgeous spring-summer basics that are also super comfy.
So things like beautiful oversized shirt dress t-shirting dresses and beautiful floaty comfy track-style pants but they're an elevated version of that so the basics have become really comfy, but they're not schlumpy, and they actually look sophisticated and stylish as well we can actually be comfortable but still look like we care about fashion and care about how we look.
5 Knitted Vests
These beautiful little sleeveless vests now actually love wearing it with jeans with denim skirts and all sorts. It's just a really simple piece to throw on. It feels as comfortable as a t-shirt but yet it looks a little bit more pulled together and a little bit more stylish.
So it's a great layering piece perfect for this time of year when summer hasn't really arrived but you need a little bit of something on but these vests are very cool super easy to wear and again they just give an outfit a little bit of a fashion edge but without sacrificing any comfort.
6 Puffy Sleeves
Puffy sleeves do suit everyone, but there are variations in the size of the puff. There are extreme balloon puffy sleeves, but there are also sleeves that are just fuller than the average sleeves.
So they're still a puff, but they're kind of a paired back puff the reason that we particularly love puffy sleeves and love the fact that they are the perfect piece for covering up your upper arms if you're a little bit self-conscious of that area a lot of us are and we struggle to sort of get our heads around is that why would we add more volume to an area that we're feeling is perhaps bigger than we would like it to be anyway.
But the puff is nice and loose and floaty, and it really does disguise those upper arms. If that is what we would like to do, make sure that you don't wear anything particularly fussy on the bottom.
So if you're wearing puffy sleeves, they are the statement in the outfit. Everything else needs to be fairly paired back and fairly simple to kind of create that balance as well and also not to swamp you and just create an outfit that's just too much, so obviously, if you're looking for something that's extra, then go crazy.
But to create an outfit that just really does look sophisticated and then a pair of back pant or there are lots of gorgeous puffy sleeve dresses and there is a puff sleeve for everyone from overblown exaggerated to more paired back puff sleeves but if this is a trend that you haven't looked at before consider giving it a go it is really flattering and it's one that we so easily overlook because we kind of think that extra volume is going to make us look bigger, but it actually doesn't.