A veil so sheer, the glow shines through,
A lacy bodice, with a peek-a-boo back,
Icy high heels, with a pinkish hue,
Walking down the aisle, a vision in white,
The bride is a beauty, her smile beams bright.
Weddings. Weddings are these beautiful, beautiful events that will always remain embedded in one's mind. From the purity of the bride's dress to the loosening of the groom's tie, everything plays a part on the day of the wedding. At the end of the day, memory is a construct and it gets weaker with age. How does one reminisce in the absence of said memory? Photographs.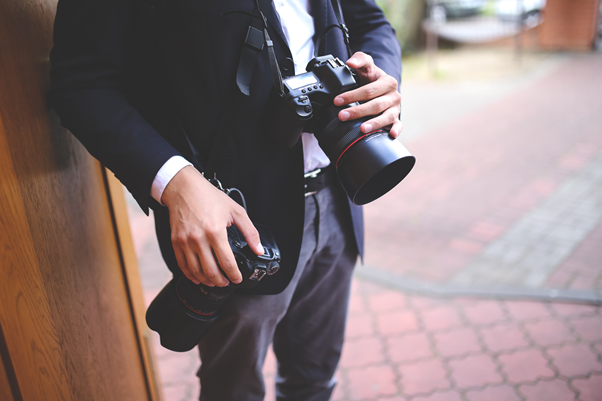 As Ed Sheeran puts it, "So you can keep me inside the pocket of your ripped jeans". A photograph has always been a sign of love. A way for two lovers to keep their bond and to help their memory recall the beauty and features of their loved ones.
Weddings are all about happiness, joy, and memories. It's about celebrating two individuals' declaration of love. This is why you need a wedding photographer. I have been a wedding photographer for a couple of years now and I wouldn't change my job for anything! There is just something about being behind the lens and capturing smiles that boosts my serotonin levels.
Let me walk you through my routine when it comes to organizing a wedding shoot. I hope you enjoy it as much as I do!
Meeting With Clients – I was recently a wedding photographer in Minnesota and I met with the cutest couple. I always like to meet with my clients instead of just interacting online. I mean they're embarking on a beautiful journey and so they deserve my complete dedication. I ask questions about their life, their love story, ideas and themes for the wedding, and most importantly the location.
Wedding Locations – Is it indoor or outdoor? Is it in a garden or a hall? Is it near a lake or a pool? All of these are important questions as they give me an idea about the equipment I need and the best lenses for the scene. The ideal would be to visit the location, before the wedding, but that isn't always possible. Lighting is a key aspect when it comes to photography and I always prefer weddings in natural light. I think it just adds to the whole wedding magic!
Wedding Day – Or as I like to call it, 'The day of nerves and laughs'. Every couple is different but what they all have in common is nervousness on their wedding day. As a photographer, I try my best to keep everyone laughing, and helping them look effortless in their poses, and by giving an empathetic smile now and then.
At the end of the day, my job is to make a couple's wedding day a day to remember and I will do everything in my power to make that happen!