10 Breathtaking Places to Explore on Your Greece Tour in 2020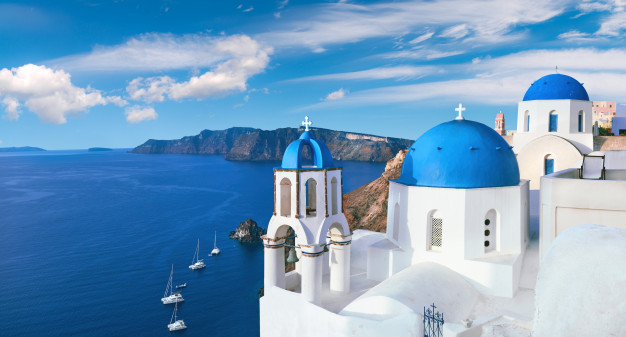 Greece – a place that looks as if it was designed by God itself is one of the most beautiful countries in Europe. Located in the southern part of the Balkan Peninsula in southeastern Europe, it is blessed with magnificent beaches, clear blue waters, picturesque landscapes and a rich culture leaving no chance to impress anyone visiting this beautiful land.
Indulge into the most heavenly flavors of local delicacies and walk through the historic sites that will make all its folktales and fairytales come to life. Here are some of the most amazing places that you can explore on your Greece tour packages.
Top 10 Places to Visit in Greece:
Here are the most amazing places that you can explore with your family in Greece
Athens:
Athens, the one place that perfectly defines what Greece is all about. Stunning modern architecture, ancient temples, spotless walkways, manicured parks, and extra warm people is what you will be greeted with once you are in Athens. Athens is a perfect amalgamation of modernism and mythology. From the Temple of Zeus to the museum of Acropolis, there is a lot to see and explore in this ancient city of Athens.
Attractions: Temple of Olympian Zeus, New Acropolis Museum, hills of the Ancient Agora, National Archaeological Museum, stunning views from Mount Lycabettus, the ancient Greek temple of Erechtheum, and Goddess Athena's famed temple of Parthenon, and more!
Santorini:
The whitewashed buildings, with blue dome-shaped roofs, of Santorini, looks nothing less than a fairytale city. Cozy little homes stacked along the slope of the cliff, white-washed buildings set against the contrasting background of blue waters and clear azure skies is an enchanting sight. Walkthrough the narrow lanes exploring the beautiful churches, museums, monasteries, and cathedrals or enjoy a sunny day at the pristine beach of Santorini.
Attractions: Ancient Thera, sunsets at Amoudi Bay, Fira Hiking Trail, Perissa Beach, Santorini Volcano, Lignos Folklore Museum, WIne tasting tours, and more!
Crete:
Listed among the best places to visit in Greece, Crete boasts of spacious landscapes, rolling hills, rocky terrains, outstretched coastline, and lush greenery. It's a place where you can find quaint villages blending well with the metropolitan. This beautiful city is home to a number of astounding Greek archeological sites and historic monuments which adds up to the beauty of this island.
Attractions: Heraklion Archaeological Museum, Samaria Gorge National Park, Sacred Monastery of Arkadi, Lake Kournas, wine tasting tours at Manousakis Winery and more!
Sifnos:
Greece is not just limited to beautiful landscapes and whitewashed buildings. This amazing land doesn't fail to impress the adventurous souls with its amazing adventure activities in Sifnos. Its extensive network of trekking trails which spanks across 100km will take you through the beautiful chapels, quaint villages, temples, and offer you the breathtaking view of the white city set against the blue backdrop of the ocean.
Attractions: Panagia Poulati, Church of the Seven Martyrs, Kamares beach, Chrisopigi Monastery, and the Cycladic Gastronomy Festival
Zakynthos:
There is no better place to find the most pristine beaches in Greece than in the city of Zakynthos. Blessed with numerous picturesque beaches, Zakynthos is home to the endangered Caretta Caretta sea turtles which you can spot swimming in the crystal clear waters of the Ionian Islands. While here, make sure to try some of the local delicacies which are made up of rare local herbs and ingredients. Zakynthos is also a great place to enjoy the Greek nightlife and a number of beach activities.
Attractions: Zakynthos Marine Park, Keri Lake wetlands, Navagio beach, MV Panagiotis, Laganas, snorkeling, and scuba diving
Delphi:
Also known as the land of ancient ruins, the city of Delphi has a number of archeological sites and historical monuments some of which are considered to be the most ancient sites in Greece. Exploring the ruins of the temples and monuments is a great way to understand the Greek culture and learn about its rich history. One of the best times to visit Delphi is in the month of November when the weather is most pleasant, making your exploration comfortable.
Attractions: Temple of Apollo, Castalian Spring, Stoa of the Athenians, Corycian Cave, Ancient Theatre, and more!
Rhodes: 
The ancient town of Greece is one of the most popular holiday destinations of Greece and is home to a number of tourist attractions, mesmerizing natural beauty, and rich history. The well preserved medieval architectural sites have gained the attention of not only the historians and archeologists but also those who wish to admire their beauty and enjoy a relaxing vacation on this Greek land.
Its outstretched sandy beaches, clear blue waters, beautiful castles, drool-worthy delicacies, and warm hospitality makes Rhodes the ultimate destination in Greece.
Attractions: Street of the Knights of Rhodes, Rodini Park, Colossus of Rhodes, Palace of the Grand Master, and more!
Nafplio:
Get a flavor of Greek luxury as you explore the lavish palaces and ancient structures of the city of Nafplio. Once a playground for the elites of Athens, the city is shaped by a number of diverse cultures which is also a source of its rich cultural heritage.
The city of Nafplio was the first capitals of Greece and is one of the most gorgeous and romantic cities of all. Walking through the lanes you will find interesting variations in architecture and design each referring to its cultural influence of Ottomans, Byzantines, and the Venetians. 
Attractions: Bourtzi Castle, Fortress of Palamidi, Syntagma Square, Bourtzi Fortress, Nafplia Palace, and more!
Though Greece is mostly related to its architecture, monuments and Greek mythologies, you will be quite surprised to find that place is quite at par with most of the other countries when it comes to tourist attractions, adventure activities, luxury accommodation options or gourmet cuisines.
Its beautiful landscape, vibrant cities, the serenity of nature, adventure-packed coastlines, interesting events, and festivals ensure there is something for everyone visiting this amazing land. With Greece tour packages, you get to explore the best of everything that this magical land has to offer and so much more!