What Are Some Best SUVs Out In The Market 2021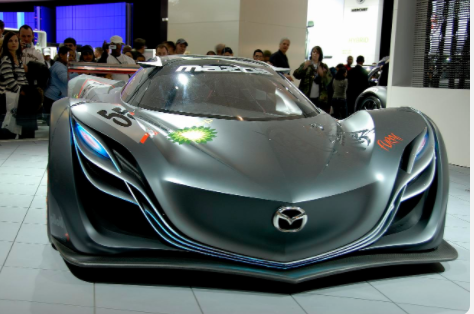 The automakers these days have gone with a full roaster in supplying the best of SUVs to the customers yelling for the SUVs and the market condition now has taken a generous shift than what was it before, where owning an SUV was a dream lived by the 'Big Pocket People'.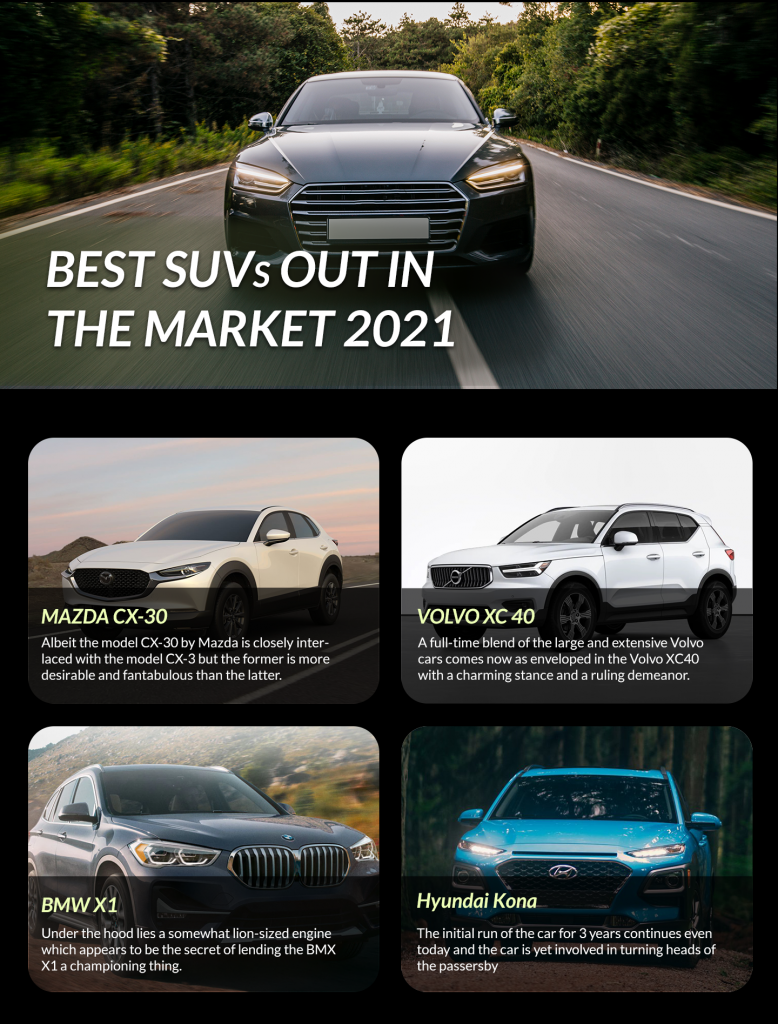 The SUVs today have become easy access and they do come with the most advanced technology and features to use, right from autonomous vehicles to the technology of fuel cell, the rather scenario of cars has now become an easy sip of cola for anyone.
Below is a rundown of the most famous SUVs that didn't just scrape hearts but roads too, go take a look at them,
MAZDA CX-30
Albeit the model CX-30 by Mazda is closely interlaced with the model CX-3 but the former is more desirable and fantabulous than the latter. The model Mazda CX-3 has lent the model MX-30 a whole share of interior design, styling, and powertrain and the car now goes a little more elevated than ever, giving the vehicle more of an SUV appeal.
Rivalries like Audi Q3, BMW X1 have stood the test of time with the Mazda CX-30 and team Mazda has layered the vehicle with near to premium interiors, advanced driver assisted features, and whatnot.
VOLVO XC 40
A full-time blend of the large and extensive Volvo cars comes now as enveloped in the Volvo XC40 with a charming stance and a ruling demeanor.
Inside the Volvo XC40 resides a whole kingdom to make you enchanted with the smattering of spacious cubbies and advanced features. Mercedes Benz GLA and BMW X1 could nowhere compete with the commanding driving dynamics of the Volvo XC40.
BMW X1
Under the hood lies a somewhat lion-sized engine which appears to be the secret of lending the BMX X1 a championing thing.
The engine doesn't really boast of a branded one but rather provides enough pep and sufficient fuel economy to the car altogether. Inside the 'Bimmer Ute' is a space for 4 heavy adults, with a cargo sufficient for swallowing suitcases, loud and heavy items of groceries.
Hyundai Kona
The initial run of the car for 3 years continues even today and the car is yet involved in turning heads of the passersby. The car is more than just an overstyled car and is more gutsy and powerful than ever, with crisp and sharp handling dynamics, the base version of the vehicle is slower but is still fun to drive.
The inner workings of the vehicle are finely tuned and arranged for your comfort, the cargo niche is slightly higher than the rivals, despite its outdated exterior the rather happy side of the car with its engine makes it even more recommendable.