Top Career Opportunities after completing SAP FICO certification
To begin with, SAP FICO stands for SAP Financial Accounting and Controlling. It is a module within the SAP ERP system that manages financial accounting and controlling functions such as general ledger accounting, accounts payable and receivable, asset accounting, cost center accounting, and profit center accounting. It is used by organizations to manage their financial transactions, create financial reports, and make informed business decisions.
Significant Features in SAP FICO
SAP FICO is a combination of SAP FI and SAP CO and it allows an organization to store a complete version of its financial transaction data. The primary purpose of SAP FICO is to help companies generate and manage financial statements for analysis and reporting. This SAP Module is responsible for facilitating effective business planning and decision-making. To further know about it, one can visit FICO Certification. Apart from these, given below are some significant features of SAP FICO:
General Ledger Accounting:

Manages company-wide financial transactions and account balances.

Accounts Payable and Receivable: Handles invoices and payments to suppliers and payments from customers.

Asset Accounting:

Manages company assets and tracks depreciation.

Controlling:

Provides cost and revenue accounting, as well as a profit center and cost center accounting.

Financial Statements

: Generates financial statements and reports, such as balance sheets, income statements, and cash flow statements.

Integration:

Integrates with other SAP modules, such as Sales and Distribution and Materials Management.

Customization:

Allows for customization to meet specific business requirements.

Audit Trails:

Provides an audit trail to track changes made to financial data.

Multilingual Support:

Supports multiple languages and currencies.

Compliance:

Helps companies comply with financial regulations and standards.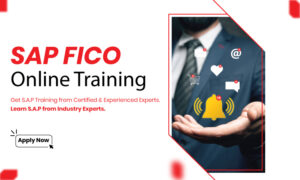 Top Career Opportunities After Completing SAP FICO Certification 
Completing an SAP FICO certification can open up various career opportunities in the field of finance and accounting. Many institutes provide SAP FICO Online Course and one can enroll in them to start a career in this domain. Here are some of the top career opportunities:
SAP FICO Consultant:

Responsible for implementing, customizing, and maintaining SAP FICO systems for organizations.

Financial Analyst:

Analyzes financial data and creates reports to support decision-making.

Accounting Manager:

Oversees accounting functions and ensures compliance with financial regulations.

Internal Auditor:

Conducts audits to ensure compliance with financial regulations and company policies.

Cost Accountant:

Analyzes costs associated with business operations and helps manage expenses.

Business Analyst:

Analyzes business processes and provides recommendations for improvements.

Project Manager:

Manages SAP FICO implementation projects and ensures the timely delivery.

Systems Administrator:

Manages the SAP FICO system and provides technical support.

Financial Controller:

Oversees financial operations and ensures financial statements are accurate and complete.

Treasury Analyst:

Manages cash flow and financial risk for organizations.
Conclusion
In conclusion, obtaining an SAP FICO certification can provide various career opportunities in the field of finance and accounting. These opportunities include roles such as SAP FICO consultant, financial analyst, accounting manager, internal auditor, cost accountant, business analyst, project manager, systems administrator, financial controller, and treasury analyst. With the integration of SAP FICO into many organizations, the demand for professionals with these skills is expected to continue to increase, making it a valuable investment in one's career.