Stylish Designs in Georgette Kurtis and Selfie Kurtis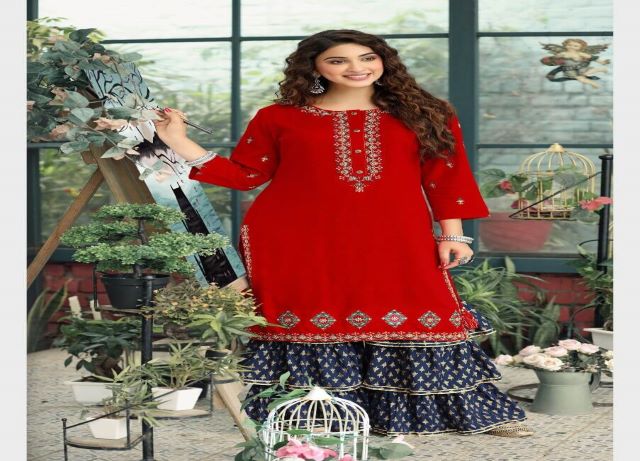 Kurtis are the never-ending love of a lady. It is so because a kurti comes in a variety of patterns and can be worn anytime anywhere. It can be paired with different types of pants or salwar and suits women of every age and every body type as well. From college going girls to housewives everyone loves to wear kurtis and if they are made from a lightweight fabric such as cotton, linen or georgette then no one can reject it. The color, smoothness and pattern everything is perfect in kurtis made from these fabrics. Another thing is numerous color choices.
Why Georgette is Best?
Georgette is a lightweight dull-finished crepe fabric that is originally made from silk and nowadays even from synthetic fibers such as polyester and nylon. They are made with highly twisted yarns using the weft and warp technique. Due to its flowy appeal and durable characteristics it is the most admired choice by dressmakers. It is a breathable material that controls sweat and gives you a fresh feel while wearing. A variety of ethnic clothes are made from georgette from which Wholesale Kurtis are also one. The material is usually found in solid colors and prints that can allure anyone's heart. Salwar suits and sarees made from georgette are extremely popular among ladies that can be either printed or embroidered. 
Designer Georgette Kurtis: 
For festivals and special events you can choose a playful georgette kurti embellished with crystals, pearls and laces that gives it an extraordinary look. As we are the leading designer georgette kurtis manufacturer from Surat and we offer you a variety of them at discounted price. You will get the ethnic and modish look at the same time by wearing this pretty attire.
Party-wear Georgette Kurtis
Many girls prefer to wear ethnic clothes at parties and auspicious functions and for those pretty ladies we have a range of georgette kurtis at wholesale price with sterling embroidery work and some laces. Pairing the kurti with a matching pant and some oxidised jewelry will give you a fashionista look. A pair of heels worn along the outfit will complete the ethnic look.
Casual Georgette Kurtis
Kurtis are also best for casual wear and is suitable for the moderate Indian climate. The fabric is light in weight and is originally made from silk that gives its a voluminous appeal and shimmery texture. As it is a breathable fabric it gives a relaxed and fresh feel to the wearer. Pairing the printed casual wear kurti with a legging will prove to be a drastic combination.
Short Georgette Kurtis
For college going girls and teenagers we have pretty georgette kurti readymade that can be worn with denim jeans. Some prints and tassels with fancy necklines and sleeves patterns give it an effective look. The angrakha style short georgette kurti with linings and checks in pastel colors are too adoring. You can also pair it with palazzo or sharara and look voguish.
Long Georgette Kurtis
They are available in flared and straight patterns as well. These long kurtis are usually floor-length with traditional motifs and block prints that makes it look super attractive and abiding. These kurtis can be paired with different pants and denim as well for a diva look.
Selfie Kurtis
Selfie kurtis are the new trend nowadays. They are the most loved attire of girls and they love to wear it at festivals, parties and occasions. The kurtis are comfortable to wear and are detailed with pearls, crystals, diamonds or pretty prints to give them an effective and sterling appeal. They are available in numerous patterns and designs with thousands of color options and alluring neck designs. They can be paired with different types of pants or salwar that makes an amazing and flaunting attire.
Latest Catalogs of Selfie Kurti
As everyone loves to wear this kurti and we have them in comfortable fabrics and pretty patterns that provide you a flawless and fabulous look. The catalogs of wholesale selfie kurtis at our store are the highly demanded ones by every lady. They are made of different fabrics and give a drastic appeal to the wearer. The fabulous shades and different styles of these kurtis makes it a worth buying outfit for festivals and events. The collections that you see here are all latest and modern that are made after proper research and demand of people.
Cape style selfie kurti:
The most stylish and fashionable cape style selfie kurti in different shades and lengths are available at our store. The stylish embroidered cape above the kurti gives it a fascinating look. They are the best one to wear at parties and events that provide a sterling appeal. 
Straight selfie kurti:
The elegant and graceful straight kurtis with a side slit and long sleeves makes a pretty and gorgeous kurti. This adoring kurti can be paired with different types of pants or salwar that gives you a flourishing look. The ones that are detailed with adoring prints and embellishments are perfect for gatherings and parties. 
A-line selfie kurti:
The slightly flared kurti that resembles an 'A' looks amazing when paired with a palazzo or straight pants. A jacket with alluring embroideries and a tie up with tassels added to the kurti makes it look super gorgeous. The contrast color jacket gives a more effective look to the entire outfit. 
Anarkali selfie kurti:
The prettiest among all with a beautiful flare is an anarkali kurti. They are the favorite of every lady since prehistoric times. The attire is found in different lengths and can be paired with beautiful pants depending upon the length. These anarkali kurtis look the best with a churidar salwar or a legging.
Printed Cotton selfie kurti:
If we talk about fabrics then cotton remains at the top of the list. It is a soft and fluffy fabric having a number of comfortable characteristics making it the most admired fabric. Printed cotton selfie kurtis are suitable for casual wear and even give a flawless appeal in special occasions. 
The attire is getting popular day by day due to its attractive and interesting appeal. The reason behind its popularity is that it is an adequate attire to wear on a regular basis and even at occasions depending upon the prints and designs of the outfit. They are easy to carry and manage and are favorable for every climatic condition. Either it's a brunch or an evening party you can flaunt your ethnic look by wearing this pretty outfit. Just add some beautiful accessories and complete your entire look.