How much does it cost to cruise the Nile?
Cruising the Nile is an incredible way to experience Egypt's rich history and culture. A Nile cruise is a great way to explore Egypt's wonders, from the Great Pyramids of Giza to the stunning Luxor Temple. But before you book your cruise, you'll need to know how much it will cost. In this blog post, we'll answer the question: How much does it cost to cruise the Nile? We'll explore various Nile cruise packages and discuss what's included in the cost of a Nile cruise.
The Cost of a Nile Cruise
Nile cruise holidays can be an exciting and luxurious way to explore the ancient wonders of Egypt. But before you set sail, it's important to understand the cost of a Nile cruise and what's included in the price.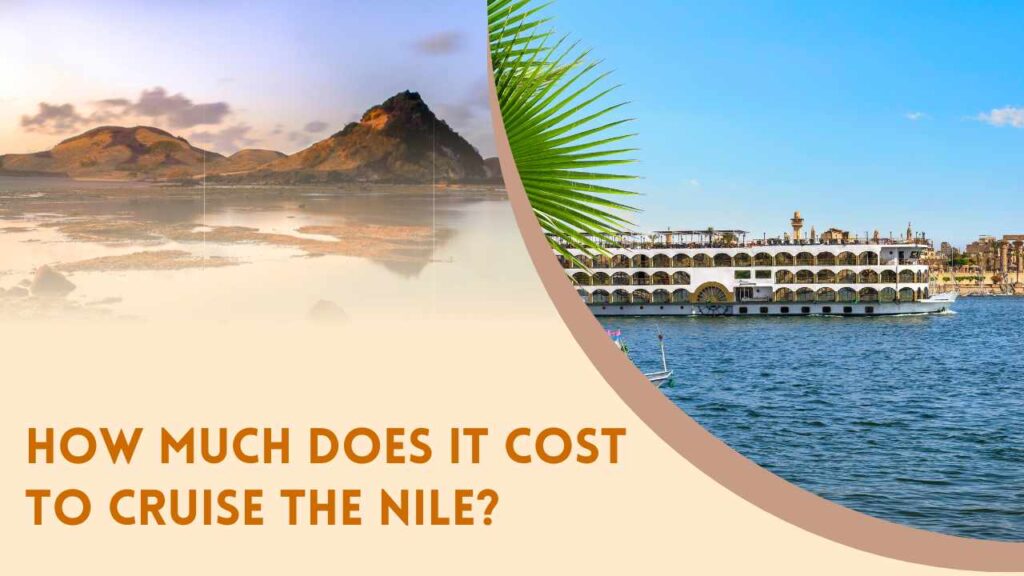 The cost of a Nile cruise typically depends on the length of the cruise and the type of boat you choose. For example, a 4-night Nile cruise in a 4-star boat can cost anywhere between $300 and $600 per person, depending on the season. Meanwhile, a 3-night Nile cruise in a 5-star boat can cost around $900-$1,000 per person. These prices usually include all meals onboard and access to the cruise's activities and amenities offered.
For longer cruises, such as 7 nights or more, prices can range from $700-$2,000 per person depending on the season and type of boat you select. Longer cruises will usually include more luxurious amenities, such as air conditioning and private balconies in each room. It's important to note that most Nile cruises only run during certain times of the year, so be sure to check the availability of your desired cruise before booking. Additionally, you can find discounted rates if you book your cruise at least 6 months in advance.
What's Included in the Price of a Nile Cruise?
A Nile cruise holiday typically includes the price of transportation, accommodation, meals, and sightseeing activities. Most Nile cruises feature all-inclusive packages, so all your meals, snacks, and drinks are included in the cost. Onboard entertainment such as music, dancing, and evening shows are also often included in the package. Other activities may include yoga classes, onboard lectures, swimming pools, bars, and spa services. Many tours offer additional excursions such as camel rides, hot air balloon rides, guided tours of ancient ruins, or shopping trips in local markets. When you book a Nile cruise holiday, check what's included in the package to know what to expect during your trip.
Additional Costs to Consider
When planning your Nile cruise holiday, there are several additional costs that you should take into account. First and foremost, there is the cost of transportation to and from the port. Depending on your location, this could involve flights, buses, taxis, or trains. You'll also need to factor in the cost of meals and drinks while you are on board your cruise ship, as these are usually outside the overall price of the ticket. Additionally, plan for a few shore excursions, which can be costly and provide unforgettable memories and experiences. Finally, it would help if you considered any incidentals that may arise while you vacation, such as souvenirs and gifts. All these added costs can quickly add up and should be considered when budgeting for your Nile cruise holiday.
How to Save Money on a Nile Cruise?
If you're searching to save money on a Nile cruise, there are several strategies you can employ. To get the most out of your Nile cruise tour, consider the following tips:
1. Book Early: 
If you book your Nile cruise in advance, you'll be able to take advantage of lower rates and any early-bird specials that may be available.
2. Check for Group Rates: 
Many cruise lines offer discounted offers for groups of 10 or more. This is an excellent option for families and friends traveling together who want to save money on their Nile cruise.
3. Take Advantage of Airfare Deals: 
Look for flight deals from your home airport to the port of embarkation. If you can find a great deal on airfare, you can save a significant amount on your Nile cruise.
4. Compare Cruise Lines: 
Not all Nile cruises are created equal. It pays to shop around and compare the amenities and prices of different cruises before you make a decision.
5. Look for Package Deals: 
Look for package deals that include your cruise, meals, and shore excursions at a discounted price. You can also find discounts on transportation to and from the port of embarkation if you book a package.
By taking advantage of these strategies, you can save money on your next Nile cruise holiday and have a memorable experience without breaking the bank.
Final Words
A Nile cruise holiday is an incredible way to explore one of the world's most iconic rivers. The cost of a Nile cruise can vary greatly depending on your destination and the duration of your stay, but it can still be a great value for the experience you get. Considering the factors mentioned above, you can ensure you get the best possible deal for your Nile cruise holiday.