How to buy high-quality virgin hair bundles on a budget?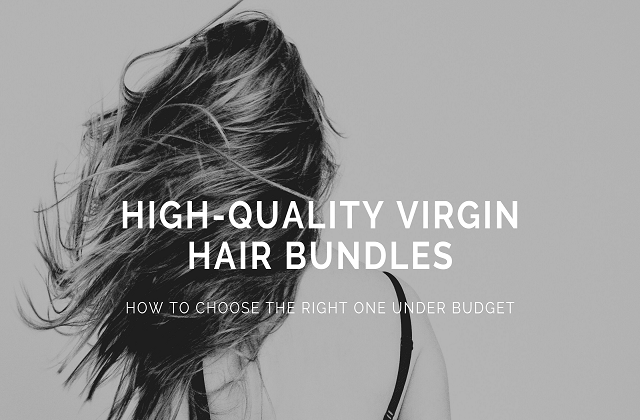 If you're not genetically blessed with thick luscious hair, you can get some help from hair extensions. Sadly, not everyone has the budget to indulge in expensive human hair bundles. In order to determine how high quality a virgin hair is, look out for the following:
What To Look For While Buying Hair Bundles?
When buying clip-in hair extensions, try to avoid clip-ins that require lots of small pieces, as this will be visible in lots of noticeable thin pieces. Opt for clip-in hair extensions that have sturdy clips, as they can support the hair without breaking. If you are looking to add length, choose hair bundles that are longer than your natural hair, and those looking for volume, pick ones that are the same length as your natural hair.
While 100% Remy Virgin hair as it has the hair cuticles intact. This means you will encounter less tangling and matting, ensuring they blend naturally into your hair. Choose Virgin hair bundles that match your natural color, and this will stop you from needing to dye them.
The Price Is Right
Synthetic hair is generally a cheaper alternative to human hair extensions. Whilst synthetic extensions are the solution for those on a tight budget, and they don't often last as long as human hair, so they are less of an investment in the long run. Virgin hair extensions are more expensive, but they will look and behave like your natural locks. When cared for correctly, they are more durable and last longer than their synthetic counterparts.
If you are within your means to save up and invest in temple hair weaves, we recommend doing so. Synthetic hair is the cheapest option on the market, but you will get what you pay for. You won't be able to heat styling tools on synthetic hair, or else it will melt. You will also struggle to blend synthetic hair bundles with your natural texture.
Poor quality hair will be starting to look damaged after 3-4 months. It worth every penny to spend a bit more for good quality human hair bundles; not only will your hair extensions look, feel, and move better, it could save you money on maintenance.
Hair Texture Types
The type of hair extension you purchase can affect the price. Natural Indian hair is more expensive than any other bundles. Virgin hair costs more than any other type of Indian or Asian hair. The number of hairpieces in a pack can affect the price.
The weight of hair extension packs varies depending on the number and density of the pieces it contains. Choosing thick hair bundles on sale can save you money. For regular use, extensions between 50-100 grams will give you the right volume and thickness.
If you love to style your natural hair in a ponytail, you may not need to invest in packs of keratin-bonded hair, instead purchase a ponytail extension for a significantly lower price.
Affordable Virgin Hair Type
If you aren't planning on wearing extensions for an extended period of time, temporary clip-in hair extensions are a great solution for those on a budget. Temporary human hair bundles are premium products that can be bought at affordable prices.
Brands like Indique Hair, Diva Divine Hair, Hair Factory, LullaBellz offer great bundle deals that can save your money. So, it's important to investigate the brand and product before you buy it. You shouldn't accept long-term damage as a compromise.