How to Make the Best of Your Living Space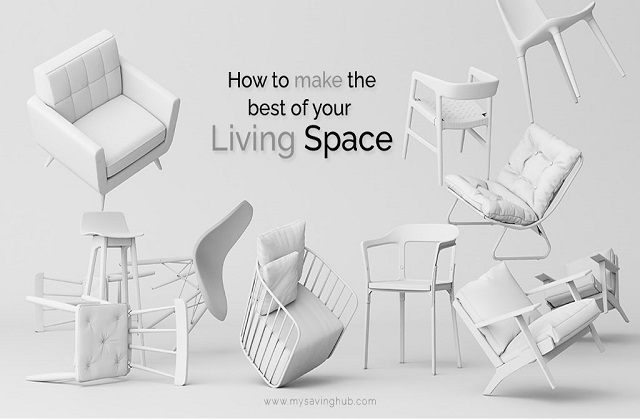 Some apartments are big and some are just enough for two people. The truth is home is not defined by the size, number of rooms, bathrooms or even the square footage but it is the people who live in that make a house into a wonderful and warm home. You do not need a big patio, or a humongous lounge to mark an impression, all you need is a simple sense of décor, few right furniture items and a tendency to create a hospitable environment.
While it sounds simple and we all feel like we do the best of our living space to make it cozy enough for the people we love sometimes we are just missing the basics. Here are a few simple tips to make your living space its best version and that too without straining your budget.
Do not clutter
Every room needs a bed or does it? Are side tables necessary with every sitting place or do you really need a table to dine for 8 when you are just six people? Sure there could be guests coming over but rest of the days you can make use of the remaining two chairs, by setting them around the study table.
The trick here is to do more with less. I have observed many people fill their home with so much items let it be furniture restoration, décor or wall hangings that the whole place becomes claustrophobic. Give some room to the home to breathe!
Don't go buying everything you liked at the Ikea or the home Centre even if you are not tight on budget. Set your vision and buy only the things that go with the theme or the final idea you have in your mind.
Pick furnishings in minimal square footage that provide full functionality. For instance, opt for a desk with a small side chair instead of an end bench.
Choose the right furniture
When you are shifting to a new place or even thinking about redecorating your existing place you are surely going to buy some new things. While the old furniture looks dull and used it doesn't necessarily needs to be thrown out. Have you checked for the possibilities to polish the old furniture into something new?
How about painting something monochromatic on your bed and side tables to get yourself a new bed set or even if you are set on buying new furniture then going wisely is the trick.
I would advise you to start by making a list of the must-buy furniture you need then shop from the best places. Quality over quantity! So do your research before you land at any furniture shop to spend those hard earned dollars?
You can also use furnishare coupon code to get the best deals. After all they are the talk of the town and the store really does have some wonderful items.
Get Smart and Creative
Find a table that can act as a desk and dining table, get a deep sofa that can double as a guest bed, or buy cubes that serve as a coffee table and bonus seats while guests are over. Pieces that can serve several purposes are key.
Mirrors are a Win-win
It is a known fact that mirrors can make your place look much larger and brighter. Having mirrors with gorgeous frames on the walls can totally redefine the space without having to do much else. If you are going for an antique look shop for a vintage mirror or a brightly colored mirror frame can uplift the entire room in a single go!
A happy home is a wonderful home
Lastly, your living space will reflect the quality of life you have in your home. If you have an optimistic, healthy and jolly lifestyle it will be radiated through the walls. It is true, your house can get the impression of how you live in it and it will be redirected right back at you!
Try to be small, intimate and cozy where people are valued more than things. Try keeping the people you love close by having small wonderful talks and little happy moments. Before you know you would have created a welcoming and functional living space.