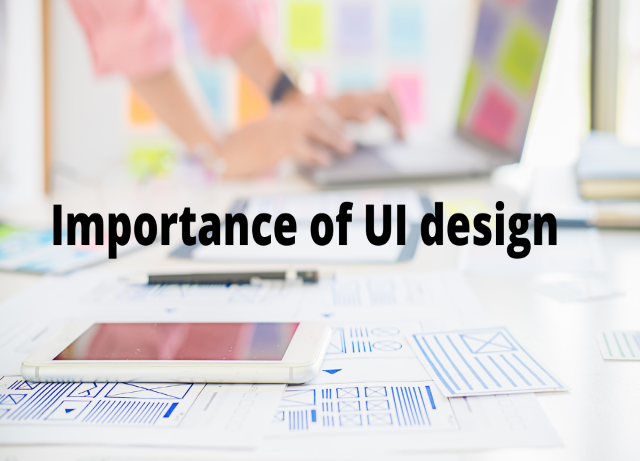 User Interface Design in Technologically mentions the design of the user interface for software, applications, or websites. It's about the look of things programming with a view to facilitating usability and enhancing the UI.
User Interface design like graphical user interfaces and other as such, voice-controlled interfaces.
User interfaces come in three formats:
GUI (Graphical user interfaces):
Users interact with visual presentations on digital panels. A computer's desktop or mobile screen is a GUI.
VUI (Voice-controlled interfaces):
Here Users interact with through their voice. Some smart assistants Alexa on Amazon and Siri on iPhone devices are VUIs.
Gesture-based interfaces:
Users interact with 3D design through body motions i.e.in virtual games.
Simply saying, a user interface is nothing but a feature that allows a user to interact with an app or website. Let's consider that someone is filing a contact form on a shaadi.com, in this case, your user interface would consist of a text box, a radio button, a drop-down list, and any other element which would allow you to enter your data.
Are you baffled by the UI designer role?
Here we guide you to help you understand how to hire your good UI designer.
WHY IS USER INTERFACE IMPORTANT IN DIGITAL MEDIA?
With the experience of web development in corporate website design, we know how important a good User Interface is in the sense that it makes it easier for your audience to nicely see what your products are. It is designed in a very catchy way to display the products that you offer without obscurity, to grab your visitors' attention and keep them attached to your site.
Unambiguously put, a best User Interface is crucial because it can transform potential visitors into buyers as it easily provides interactions between the user and website or web application.
When you go beneath the surface you find out that UI is quite a complex field that involves the user references and then creating a confluence that understands and satisfies those preferences. The UI not only concentrates on aesthetics but also maximizes efficiency, accessibility, and responsiveness of an app or website.
An interface is where users interact with the app or website, they're in use with. UI is the crucial part of building an attractive website. A good User Interface provides a ideal blend of interaction design, visual design, and information architecture:
Visual Design
About functionality, its typical role is only that of a negotiator between the product and the user. Moreover, in terms of the ease of doing business, familiarity, and fulfillment it offers to the consumer, it earns the top spot.
Visual design enhances a site's attractive value by strategically implementing components such as size, colors, shapes and images among some things. When done profoundly, visual design makes a page graceful.
Decrease Cognitive Load
Have a thought on what kind of action you need the audience to take when they're on your app or website and reduce any extra efforts. Straight, simple to use, and easy to understand are proven to be more effective. Keep the site minimal and keep on improving the visual appearance of what's more important. Use short and sweet, concise content, lists, and relevant visuals to reduce cognitive load and increase conversion rates.
Information architecture
Next way to create flawless UI design is to make it easy for visitors to navigate and interact with the website, products, and services. Just reduce irrelevant information that you may have on the website, so you clearly interact with your site intent and significant information about products or services.
Most importantly, avoid asking too much data and don't ask them again for data that they've already entered. The longer a detailed form is or asks more to fill in to sign up for a newsletter, there are less chances that they'll actually go through it. Private information is a material and many people are uncomfortable with sharing. Likely, if you've already had them enter information on your app Or site, don't ask again.
Conclusively, use the terms that everyone understands properly. If any website is loaded with industry-specific big-words that can't be decoded by the target audience, you're not going to have a high success rate.