Top Methods to Convert & Save Outlook Email as PDF with Attachments
Are you looking for a method to save Outlook email as PDF? Here you are at the right place. I am going to discuss how you can download the emails and save them as PDF. But before explaining the methods, you should be aware of what MS Outlook is and why you need to migrate the emails.
MS Outlook is an outstanding email client that offers various exclusive features. It can manage multiple email accounts, contacts, tasks, notes, calendars, etc. However, it is not invulnerable. It can not protect your valuable data in every situation. So, you should download your mailbox items to your system's drive.
MS Outlook offers such unique features to its users. Still, most of its users are saving their mailbox items as PDF files to their system. They may have their reasons, but a few reasons are the same for most of the users.
Let's learn the main reasons to convert Outlook mail to PDF files.
Why to Save Outlook Email as PDF File?
The Outlook mailbox is incomparable because of its exclusive features. However, it is recommended that you should save Outlook messages as PDF files. Let us know the reasons for this migration.
Below are the most common reasons for this migration:
A PDF file of Outlook emails allows you to access your mailbox items offline. You don't need to login to your email ID to see the emails. It is the best option when you don't have an internet connection or have a bad internet connection.
If you want to keep your precious emails free from viruses or malicious activities, you should download them to your system's local drive. Because a hard drive in your system is comparatively safer than the server.
Saving the emails as pdf files also works as a backup. You can save Outlook email as PDF to the system and delete them from the server. This way, your mailbox will free up unnecessary free space, and your precious emails will also get stored at a safe location.
Because of the above reasons, most users want to download their Outlook emails as PDF files. So, let's learn how you can save Outlook emails.
How to Save Outlook Email as PDF
Anyone can save Outlook emails on their computer. You don't need software to download the email files. You can save the emails by using Outlook email Client. The steps are simple and applicable for all versions of MS Outlook.
Follow the steps below to save Outlook email as PDF:
Open the MS Outlook and Double-Click the desired email.
After opening the email, click on the File option in the menu bar.
Select the Print option from the list.
Choose Microsoft Print to PDF option.
Click on the Print Option and proceed further.
After that, select PDF in the Save as type option and click on the Save button.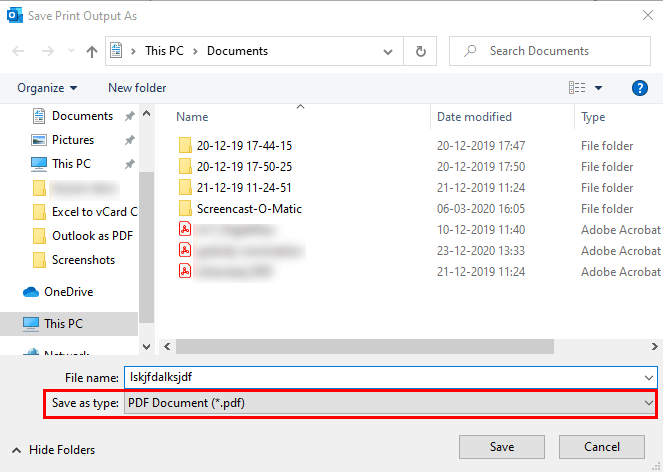 Give a location to the PDF file and click on the Save button.
Above is a manual method to export outlook to pdf files into your computer. The steps in this method are simple to perform, yet some may find them complicated. For such users, an automatic procedure is an ideal solution. In this method, you can save the emails with the help of software. SysInfo PST Converter tool is one such software. It helps you in converting Outlook emails to PDF with attachment files safely.
Conclusion
MS Outlook is an incomparable email client. However, most of its users are migrating their data to their system. Everyone has their reason for downloading the emails. You can also save Outlook email as PDF by some simple methods. If you find these methods difficult, you can use an Outlook PST converter to migrate the data. It is a fast and effective way to migrate emails.