Order Management System (OMS) – How to Select The Right D2C Solution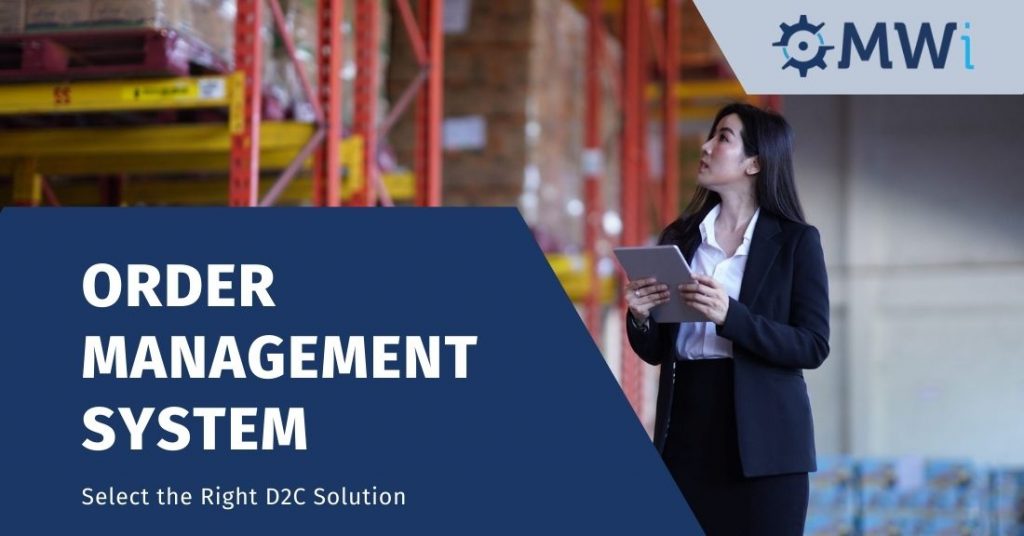 An order management software solution is vital to manage and track your manufacturing orders and sales. Typically, when a business starts expanding you need to get more control over all operations. Considering D2C manufacturers, it becomes important to look for the right solution with absolute scalability when it comes to sales and inventory management, order fulfillment and production planning. That's why you need to build a holistic approach to get started with. In this article, we will explore what helpful tips you can follow to choose the right solution to improve your order fulfillment.
An automated OMS is a software solution that deals with the order-to-cash process between D2C and B2B manufacturers and distributors to help them improve their order management operations and efficiency. An OMS helps businesses track customer orders, sales, inventory and fulfillment rate. Eventually, it will allow you to identify production bottlenecks and perform product tracking from shop floor to the customer.
Your selected OMS should help you track and monitor your:
Customers
Omnichannel selling
Multi-location inventories
Order receiving & processing
MTO and MTS business model
Customer support services
Remember, your order management efficiency significantly depends on how well you manage and control your inventory.
Order Management Process Flow:
Before you find the right order management solution that supports your manufacturing and supply chain, you must know about the order management process.
Order Booking:
It all begins with customers placing their orders online, in-store and even by emailing or calling you.

Order Fulfillment:
Next comes sales details that are directed to the warehouse for products picking and packing to fulfill the order.

Order Entry:
Entering order details in accounts (receivable and payable) and general ledger to generate sales invoices and accept payments.

Order Shipping:
Final stage is dispatching the goods to the customer, and the sale order is recorded as delivered in the OMS.
Adopting a modern, dynamic and flexible order management system is a necessity for growing businesses. As your business grows, your team needs a system to manage, monitor and track the high influx of customer orders, especially during the peak seasons.     
How to Choose an OMS?
With a lot of options available, it is quite difficult to choose a reliable system for order management. Unfortunately, so many of them support regular old distributors and retailers, and not discrete manufacturers.
Don't worry we have put together a checklist for you that will make your OMS selection process easygoing.
Financial Capital:
Your business success depends on how much you can invest in buying what you need for smooth running of your operations. You can get a cheap OMS to save money, but it might not be future-proof and can cost you much more than you can gain from it. The same is true for highly expensive, complex systems. For instance, some intranet and desktop order management tools can cost you high, but do not perform better than an economical and straight-to-the-point, cloud-based system.
So, be realistic about your budget and business needs.
Market Comparison:
One system can have different rates depending on the vendor offering it and the features it contains. So, always compare the market because not all systems will match well with your manufacturing business. Well, you can use a standalone system with simple and basic features for managing orders, but it may risk being not dedicated to your industry in particular. However, there are systems that can allow you to manage your entire business operations from one dashboard.
Make sure, after market evaluation, you pick the best tool which features best order management functionalities.
Production Flow:
Production operations are more likely to change in D2C manufacturing. During holiday seasons, you may think about implementing an assemble-to-order model or perhaps need to deliver bespoke products to the customers who ask for more customization. Now, it means, you need a system that adapts to your changing production flow and supports you in whichever direction your production line moves.
A flexible OMS will make it easy to handle your custom orders and stocked inventory regardless of the changes in your production processes. Moreover, it allows revising and updating the sales orders on customer demand and that's also on the move.
Powerful Integrations:
Whatever order management platform you choose, make sure it gives you all important add-ons to further enhance your business capabilities. Whether you are an eCommerce or a D2C business owner or a traditional manufacturer, you will need an OMS that can maximize your business productivity by integrating with your existing tools. Make a list of integrations your shortlisted order management systems offer and see if they can support your omnichannel selling and ordering processes.
Remember that the cost will keep hiking with the increased number of integrations. So, be as much tactical as you can and pick the OMS that supports necessary integrations you need whilst boosting your efficiency.
Shortlisting Review:
Apparently no system can be a perfect match made in heaven for your business. There are always specific limitations in each system. Legacy systems may not support cross-platform execution and a standalone system may not support your other business operations like material handling or preventive maintenance, etc. Therefore, you always need to consider wider criteria while selecting an OMS to avoid any potential obstruction to omnichannel execution.
Thoroughly review the shortlisted systems, considering core features, main functionalities and integrations, and of course how much it will cost you.
Demo and Trial:
Free trials and demos will tell you whether or not your preferred order management software is suitable for your manufacturing business. Ask the following questions to pick out the right one.
Is it reasonably priced?
Can integrate with other tools?
Can adapt with changing production flows?
Can support different manufacturing operations?
We suggest you to go through each OMS and sign up for a free trial or ask the vendor for a demo and see which one is closer to your business processes and benefit your company in the long run.
Final Thoughts:
The selection of an order management solution can make or break your business. If you want to grow your brand and build a strong business reputation, determine which system allows pretty seamless and quick handling of customer orders.  
Looking for the best system to manage your business sales and manufacturing orders? Check out the order management solution from MWI Solutions – designed for business growth and scalability.
MWI Solutions is a company of the best automated material handling and order management systems to help businesses across the United States for improved profitability and sustainability in their manufacturing and supply chain.