Introduction
Bangalore's Guhantara Resort is a resort located inside a cave. The distinctive selling feature of this resort is its ability to replicate real caveman existence without compromising on luxury. It is incredibly exciting and thrilling, but also calm and serene. The only way to understand it is to experience it for yourself, and with the luxury and amenities it provides, we bet you'd want to come here as soon as you can.
The Guhantara Cave Resort in Bangalore, which has a stunning cave-like atmosphere and design, is perfect for a romantic weekend getaway with your partner or a family vacation. Because there are so many delightful activities and experiences to indulge in, people from all walks of life will adore the tranquil charm of the cave.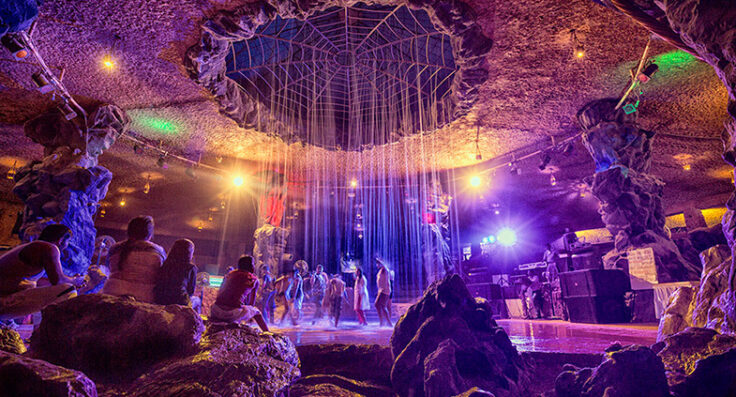 Stylish Facilities
Although the thought of a cave conjures up images of primitive living, Guhantara underground resorts make you feel completely out of place. Its stunning architecture and serene surroundings give you room to breathe. Their beautifully themed rooms range from Primitive to Suite, so you can appreciate that.
Guhanatara offers 18 lovely and roomy accommodations, with choices like Primitive, Lithic Room, Lithic Suite, and Cave Suite.
You have the option of booking a room just or a package that includes breakfast, lunch, high tea, and dinner. There is a 24-hour check-out option to make things simpler for visitors and so on.
Activities in the Resort
Without delicious food, a trip is never truly complete, and Guhantara offers a restaurant. A package that includes three meals and snacks is an option. They definitely have an intriguing menu with a variety of selections to tantalize your palate. If you enjoy drinking, this resort has a bar with a wide selection of alcoholic beverages.
Guhantara features 3 swimming pools, which would make you happy if you want to swim. In addition, they can plan a pool party and rain dance.
The Guhantara wellness and spa center is a good option if you want to unwind over the weekend. The Agastya Kuteera specializes in providing expert Ayurvedic therapies.
Guhantara's range of activities will make you adore it. There are both indoor and outdoor games that you can participate in. Horseback riding, bull riding, zip-lining, paintball, and more exciting activities are available. Children will also enjoy themselves.
Unique Locations at Guhantara Resort
1. Sambhojana:
A variety of cuisines are available at the Guhantara Cave Resort's on-site food court, which is furnished in a zen-like, minimalistic, traditional cave design to make you feel at home.
2. Madhushala:
The subterranean cave resort's bar, Madhushala, has a psychedelic atmosphere thanks to its cave-like design.
3. Rangamandapa:
Folk performers will entertain you in this 700-seat theatre in a way that truly takes you back in time.
4. Samvaad:
Samvaad, as its name implies, is the resort's fully equipped conference room with modern amenities.
5. Agastya Kuteera:
This is the resort's SPA, where you may relax and take advantage of the ayurvedic charm offered by its qualified medical professionals and therapists.
Accommodations
This resort's accommodations are its best feature, and the rooms and suites are appropriately titled and themed (no pun intended!). There are four different types of rooms and suites, all of which have sit-out areas with views of the natural light streaming in from above.
1. Primitive;
Tariff 1: 5000 INR for a room (Double Occupancy)
Tariff 2: Special Package, INR 8,500 net per day per pair, inclusive of tax, meals, lodging, and pay games (twin sharing)
2. Lithic;
Tariff 1:
INR 5,500 for a room (per couple)
Tariff 2:
Special Package, which costs Rs 9500 net per day per couple and includes tax, food, lodging, and pay games (twin sharing)
3. Lithic Suite;
Tariff 1: A 6500 rupee room rate (per couple)
Tariff 2: Special Package, INR 10,000 net per day per pair, inclusive of tax, meals, lodging, and pay games (twin sharing)
4. Cave Suite;
Tariff 1: INR 10,500 per night (for 2 couples)
Tariff 2: Special Package, INR 15000 net per day per pair, inclusive of tax, meals, lodging, and pay games (4 sharing)
How to Reach?
The resort is located on Kanakapura Road, 27 kilometers from Bangalore, and is easily accessible by both private and public transportation.
The distance from KSR Bengaluru City Junction to the closest railway station is 32.4 kilometers, and it takes 1 hour and 5 minutes to travel there by car or taxi.
The distance from Bangalore Airport to the closest airport is 68 km, and it takes 1 hour and 52 minutes to travel there by vehicle or taxi.
Best time to visit
The ideal time to visit Karnataka is from October to April. The majestic Mysore Dussera and wildlife safaris are best experienced in the winter. Karnataka experiences high humidity from April to June because of its proximity to the western coast. While hill stations are milder and colder, coastal places are hotter. Actually, the greatest time to visit Karnataka depends on the season and the place you're going. The monsoon season, which lasts from July to September, might bring severe rain to some areas, but there is seldom a better time to go trekking in Antargange or see the stunning Jog Falls.
By delivering a special mix and match of activities to revive your senses, the resort offers a greater experience. Return to the world of ancient civilizations with their historic buildings, which have been perfectly incorporated into the landscape of carved rocks. The resort is ideal for gatherings with friends and family, as well as hosting corporate events.