How Remote Desktop Services Can Help Your Business Succeed?
Remote work has become increasingly popular in recent years, with many companies and employees embracing the idea of working from home or from a remote location. The COVID-19 pandemic further accelerated the shift to remote work, as many organizations have implemented remote work policies out of necessity. Now that COVID-19 has left its impact, businesses are looking forward to enable workforces a way to be productive from anywhere.
With remote desktop services, you can access your work computer from anywhere with an internet connection. This can be a huge advantage for businesses that have employees who work remotely or travel frequently. In this blog post, we'll discuss how remote desktop services can help your business succeed.
What Are Remote Desktop Services And How It Can Benefit Businesses?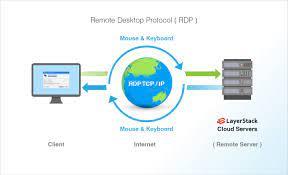 Remote desktop services are an invaluable tool for businesses, providing the ability to access remote computer systems and applications without having to physically sit at those computers. This technology allows efficient remote access in order to strengthen productivity and enhance collaboration between remote and office-based personnel as well as collaborating organizations across multiple remote locations.
With remote desktop services, a centralized server is used to enable remote users to benefit from full Windows PC functionality, including the ability to utilize hardware peripherals such as connected scanners and printers, alongside any applications or programs stored on the remote machine. As such, it simplifies management of remote systems by making them accessible from virtually any device with an internet connection, providing increased savings on travel expenses along with improved security for data stored in remote locations.
Step-by-step Guide On How To Set Up Remote Desktop Services For Your Business
Setting up remote desktop services for your business can help remote workers securely access your network and files to collaborate on remote projects.
With remote desktops, staff can access the resources of the remote system from any geographical location, from which makes remote working seamless. To set up remote desktop services, you must first install a Remote Desktop Services Host Role using Windows Server 2019 or later.
After this is installed, you will need to configure each client device with an appropriate remote connection protocol. Additionally, it is important to define user access to prevent unauthorized users from accessing protected areas.
Finally, you must secure the system by enabling strong authentication measures like passwords and two-factor authentication methods such as biometric scans and key fobs. By following these steps rigorously, you can safeguard against cyberthreats while allowing remote workers to collaborate on sensitive tasks more efficiently in real time.
Tips On Troubleshooting Common Issues That Businesses Face With Remote Desktop Services
Remote Desktop Services can be an extremely helpful tool for businesses, allowing remote access to important company data and facilitating remote collaboration. However, some common issues can arise that can hinder optimal remote desktop performance.
To troubleshoot these issues, it is crucial to understand the basic components of remote desktop services and assess what may be causing the disruption. First, check your network connections by verifying your IP address and firewall settings are up-to-date. Also make sure there is enough disk storage space available on the remote computer. Additionally, regularly running quick diagnostics on both endpoints helps to identify issues such as hardware or software incompatibility or driver updates that are required. These simple steps should ensure remote desktop services run smoothly. RDS or daas pricing you can get from the daas providers they will host and will take of everything.
How Businesses Have Utilized Remote Desktop Services To Attain Success?
Companies implementing remote desktop services have seen amazing successes due to their remote work capabilities. A telecoms provider in the United States used remote desktop services to enable remote support operations centers at 16 different sites across the country.
Due to its remote access capabilities, their remote work was almost seamless with teams able to collaborate and fix customer issues quickly and effectively. This resulted in an unprecedented level of cost savings for the company as well as improved customer satisfaction figures. This success story highlights the incredible potential remote desktop services has in enabling businesses to quickly answer service tickets and provide efficient remote IT support capabilities, making it a perfect tool for remote business operations.
Remote desktop services are rapidly becoming pivotal to the work-from-home and remote office successes of many businesses. This technology offers a multitude of advantages, such as increased employee productivity, less need for hardware and software maintenance, improved security protocols, and optimized resource utilization.
For any business looking to keep up with the constantly evolving remote workspace needs of today's remote workforce, remote desktop service provision is an investment that pays dividends. Businesses interested in exploring this technology can take advantage of demos on offer from remote desktop solutions providers to get a glimpse into exactly what remote desktop services could do for their organization.
Benefits of Remote Desktop Services
Remote desktop services offer many benefits for businesses, including increased productivity and flexibility, scalability, and cost-savings. Setting up remote desktop services for your business is a relatively simple process, and our step-by-step guide will walk you through everything you need to do. If you encounter any problems along the way, we have also provided some troubleshooting tips to help you resolve common issues.
Finally, we have shared success stories from businesses that have used remote desktop services to achieve their goals. We believe that every business can benefit from remote desktop services, and we encourage you to give it a try for yourself. Get Demo or get in touch with our consultants today to learn more about how remote desktop services can help your business succeed.