Things to know while choosing an SEO Expert.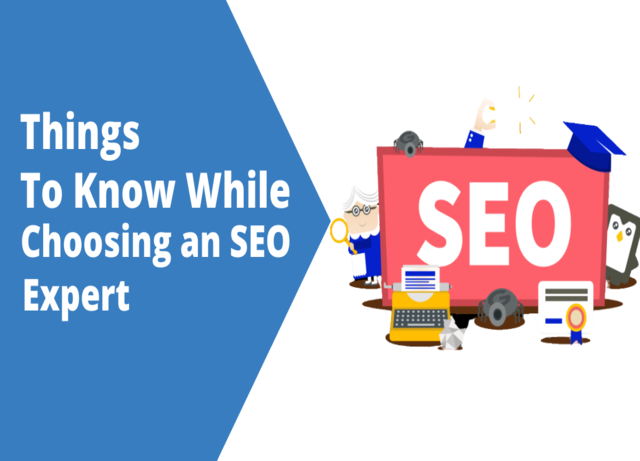 SEO (Search Engine Optimization) is the process of optimizing the online content so that it appears on the top list in the results of a search engine. SEO helps in getting more traffic to your website/blogs/article thus resulting in high sales and revenue. SEO is required for all those people who want to grow their business/ website online it can be an entrepreneur, blogger, content writer, social media influencers, etc.
Who is an SEO expert?
An SEO expert is the one who knows how a search engine works and the algorithms behind it and applies it on a website that helps in increasing the website ranking based on a particular keyword used in search engine queries.
Why do we need an SEO expert?
In this race of digitalization, businesses are also adopting the online method to promote their product and services. 'People are smart today and so the business needs to be smarter'. But just creating a website for any business is not enough, your business will get growth and success when you get more leads or more clients. To help your website get the right traffic in the search results we need an SEO expert.
SEO is a powerful tool and will grow tremendously in the coming years. Everyone wants to grow their business online today because of the increase in the number of internet users and obviously, everyone wants their business/website to be on the top in the search results. There are lakhs of online business listing websites worldwide so the competition is high. An SEO expert has the skills to make you win the race.
Choosing an SEO expert is not an easy task there are certain things you need to know before you choose the right SEO expert for your business. A few of them are listed below.
The mode of communication must be easy: A SEO strategy doesn't work as soon as it is applied it takes time sometimes it takes years to give the best results so you have to ensure the expert is available whenever you have any emergency situations or any important queries for that matter. Also decide which mode of communication will be there either by mail, Skype, phone, etc. The expert should be convenient with your method or style only then continue with the same person.
Have a look at their previous work: The work and experience of a person are the two things that reveal how good and passionate their work is. So, instead of just asking questions verbally ask them to show their past work and also ask how long they have worked with their particular clients. Do a small research on the client's website they are showing to check if they are real and genuine Check some of the basic things like if they write good content, is the website user-friendly, is the website attractive, etc.
Know what's their strategy for your company: Even before the discussion starts and you start asking questions you have to tell what your business is all about, what are your requirements, what are you expecting from the expert. See if the other person understands your needs and ask what process, method, or strategy they are going to follow for your company. Keep in mind just asking which process is not enough you also have to ask why are they following a particular process and why not others. If the expert is able to answer all this you may continue with the person.
Ask about data reports: An SEO expert must be able to measure the success and provide a detailed report about the efforts they are putting in they can use tools like Google analytics. Ask them to provide a monthly report so that you can gauge the success and the most important thing is the reports should have an increase in traffic if there is no increase in traffic that means your business is not showing any improvements and you might have to discuss this with your expert and see if they want to go for any other strategies where the success rate is high.
Discuss the price: It is always better to discuss the price and budget clearly to avoid any hazels during the project. Ask them how much fees they will take and will it be on monthly basis or it will be a one-time fee. Check if your budget matches their prices if not come to a reasonable price with mutual commitment as you don't want to lose a very good expert because of money. Also, do a background check if someone is promising too many things at a low cost.
Conclusion: Don't judge an expert only by certain things apart from the points mentioned above ask as many questions you want. Take time and then decide if you feel confident about the person and if you are happy with the interview/meeting then the deal is done.
Akash is a one of Best SEO Expert in India