Study in USA for Students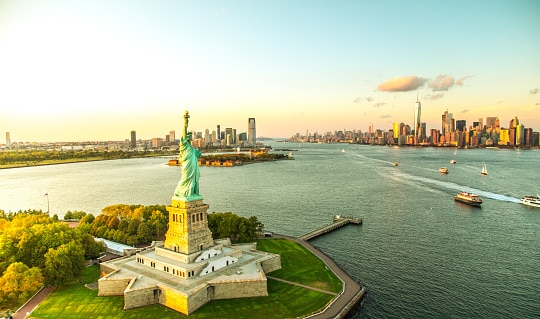 The United States of America is the world's most powerful country due to politics, military activities, and strongest global economy. It was discovered by Christopher Columbus at August 03, 1492. After gaining independence from Great Britain, it became strongest and most powerful country in the entire world with in two centuries.
Why Study in USA
The United States of America holds the top position in the list of top countries to study abroad for European and non-European students. International students from all around the world visit USA to study as this country provides supreme quality education to both national and international students.
World's Top Ranked Universities in USA
The world's first three top universities reside in the United States of America. According to the QS World University Ranking more than 150 top and famous universities belong to USA. The world's top university Massachusetts Institute of Technology also known as MIT is located in the American state, Massachusetts. According to the studies, more than 1.18 million international students are currently study in USA.
The American states most popular among international students are California, Illinois, New York and Texas and the most popular study programs among international students are engineering, business and management, mathematics and computer science.
Scholarships for Students
To study in the top universities of USA is the dream of many students. More than 12,000 students are currently studying in the United States' universities. In spite of being the most expensive study destination, it is still in the first priority destination of international students. The public sectors and universities offer several kinds of grants and scholarship to international and national students to fulfill their dreams.
American universities offer several students exchange programs with Universities. Furthermore, most of the offered grants and scholarships are fully funded or partially funded for students. besides scholarships USA universities sometimes offer students financial aids too. These financial aids are only provided to students with outstanding academic records or to underprivileged students. Some universities grant admissions to international students on the basis of sports proficiencies and community service.
Cheap and Affordable Accommodations
Cheap, affordable and functional accommodations are available for international students both on-campus and off-campus. In some study programs, free accommodation is the part of scholarship offered to students while in some scholarship offers students have to pay for their accommodations.
Medium or Language of Instructions
It is the best thing for students is that English is the language of instructions in every university and institution.
Part-Time Jobs for International students
Students are allowed to work part-time only on-campus in their first year while after successfully passing their first year they are allowed to work off-campus on specific condition and in specified training programs only. Students can do job in limited working hours with good amount of cash.
Career Opportunities for Students in USA
During and after successfully completing their study many and international students want to pursue jobs in the United States of America. As the headquarters of many of the world's biggest and greatest companies like Google, Microsoft, Apple etc. are in America, therefore, it provides the highest employability to the international students with a handsome amount of salary. Some study programs also offer international students to immigrate to USA.
Like from 2016, international students from different study fields like Science, Technology, Engineering and Mathematics are allowed to stay for 2 years to get experienced in relevant fields and they can extend their stay in USA on certain conditions.
USA- A Multicultural country
Students and people from all around the world visit United States of America for different purposes and reside here, therefore, it is a multicultural country. Students learn a lot from each other while studying in America.
How students can Study in USA
In the first step, students first have to select their preferred study program and university according to their subject and study level. After applying at the university's specified website, students must complete other formalities and requirements by the university. Many universities offer fully funded scholarships to international students with remarkable achievements.
A few universities also demand admission test like SAT, GRE etc. After the student has completed the requirements of the universities then he/ she must apply for a USA student visa. Once you have got your visa you can join the university on the given date.
Academic Year of USA
The academic year of USA generally consists of two semesters. The Autumn or fall semester start in August and the spring semester begins in January. The undergraduate degree program completes in four years while the postgraduate or Master's degree program completes in two years.
Cost of Study in USA
The universities of USA are divided in two categories;
Public/ State universities
Private universities
Public or state universities are providing quality education at cheap and affordable rates while the private universities are more expensive as compared to public. The spending or expenditures of students' tuition fee depends upon the university or school and course of study they choose. International students need a financial support of approximately 10,000 USD to 55,000 USD per year to cover the tuition fees and living expenses.
Here is the list of institutions or schools along with their prospective tuition fees;
English language studies 700 USD to 2000 USD per month
Community college 6000 USD to 20,000 USD per year
Undergraduate Bachelor's Degree 20,000 USD to 40,000 USD per year
Graduate Degree 20,000 USD to 45,000 USD per year
Doctoral Degree 28,000 USD to 55,000 USD per year
MBA degree and other professional programs like law, medicine, dentistry, designing programs, etc. can cost significantly more. While humanities, education and arts programs are cheaper and the cost of the tuition fee depends upon the degree level and study program.
Student Visa Requirements for Students
Free study in USA for students are required to apply for F-1 visa or M-1 visa to study in USA. F-1 visa is granted for short study courses while M-1 visa is granted for complete degree programs. Only those students can apply for USA student visa who has received an acceptance letter from a university. Visa requirement vary according to the degree level and study course. Some general requirements are as following;
Letter of acceptance for the chosen university.
A valid and authentic passport.
Online non-immigrant visa application.
Certificate of eligibility for non-immigrant.
Academic certificates and transcripts.
An evidence that you will leave USA after the completion of degree.
Financial proof or bank statement with sufficient funds to cover your expenditures in USA.
Cost of USA Student Visa
A valid student visa is required to study in USA and it costs approximately 160 USD.