Teachable Free Plan vs Paid Teachable Pricing Plans in 2022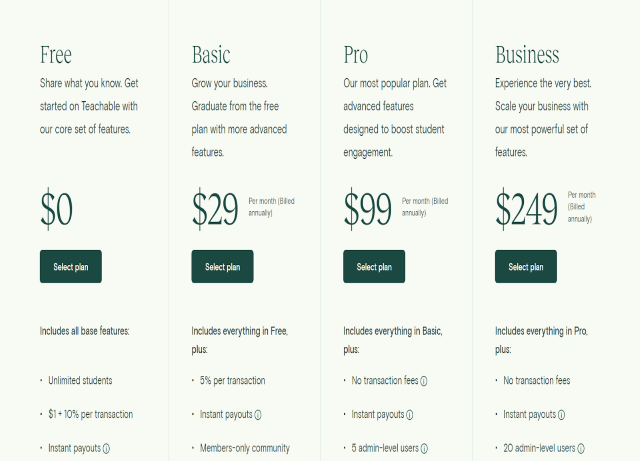 It's possible that you're thinking about using Teachable to host your online courses, but you're unsure whether or not they have a free plan. Today, we will be focusing on that particular topic.
Is there a free plan available for Teachable? Teachable does, in fact, provide a free plan; however, this plan only allows users to test out the Teachable platform for a period of 14 days.
You will be able to develop your course and get everything organised, but in order to begin selling your courses, you will need to upgrade to a premium plan first.
In this post, you will learn about Teachable's pricing and Teachable's free plan, as well as the features that the free plan offers and the reasons why upgrading to one of Teachable's premium plans might make more financial sense for you.
Teachable Overview
Teachable is an all-in-one platform that provides you with the ability to develop and market your own online courses.
They are responsible for everything, from the hosting of websites to the processing of payments and providing customer assistance. Because of this, you now have more time to devote to developing excellent material for your online course.
For those who are just starting out in the world of online education, I wholeheartedly endorse this excellent platform.
However, beginning on a new platform may be challenging, and before you make a permanent commitment to Teachable, you may want to test it out for free first. Is there any way that could work?
You got that right! Teachable offers a free plan that allows you to test out the platform before deciding whether or not to commit to using it. When you are ready to launch your product or service, you will be able to upgrade to one of their higher-tier plan tiers.
Using Teachable for the first time does not need an upfront payment; however, if you plan on making money off of your online classes, you will need to upgrade to a premium plan.
The Free Plan Of Teachable
Before you commit to paying Teachable's monthly charge, the Free plan is an excellent opportunity to become comfortable with the platform and all of its features.
If you are still in the process of putting together your online course, it is recommended that you continue using the free plan until all of the preparations have been finished and you are ready to start teaching your students. The vast majority of the functions of the platform may be accessed and utilised by users at no additional cost on a monthly basis.
Read this article if you are interested in gaining an idea of how much it costs to develop and maintain an online course.
The most significant disadvantage of the free plan is that it only provides a free trial period of 14 days and requires you to upgrade to a premium plan before you can make money off of your online courses. the high cost of each transaction.
Upgrade to one of these options in order to make the most of the platform's features and to increase the amount of money you receive from the sales you make. The free plan is really only there to allow you to get your online course set up without having to pay large upfront costs.
If you want to make the most of the platform's features and increase the amount of money you receive from the sales you make, you'll want to upgrade to one of these options.
In my opinion, the Teachable professional plan is the most beneficial option for the majority of online course teachers. The price of $99 a month might appear to be excessive at first, but considering how much money you could save in the long term, it might actually be worth it.
At the very least, if you want your online courses to become a significant source of money for you.
The fact that you won't have to pay any commissions or transaction fees if you go with the Professional plan is easily the most significant advantage, although you'll also have access to a considerably broader range of services as part of this package.
You are also eligible for fast payments, as opposed to receiving monthly PayPal transfers with a wait of 30 days as is the case with the free plan. In the event that you experience any difficulties while using the platform, you will have access to live chat help.
In contrast to the basic subscription, which simply includes email assistance for customers.
You can get a more accurate picture of how well your courses are doing by upgrading to the Professional plan, which includes access to advanced reporting. You can have up to 5 author or owner accounts, in addition to getting an unbranded website.
The professional plan enables you to import students in bulk, administer graded quizzes, and gives you access to other features. On the Pro package, you even have the option to make your return policy optional. Despite this, I would still suggest having a return policy that is valid for thirty days.
Is Teachable Pricing Plan Good For You?
The basic Teachable plan is kind of a hybrid between the paid Professional plan and the free plan.
You receive some of the features of a Pro plan, but not all of them, and the price is significantly lower than that of a Pro plan. The following are extra features that are only available with the Basic plan and are not available with the free plan.
It is possible that it is a decent choice for novice course developers who do not yet have the additional funds necessary for a higher cost plan.
This plan offers you a commission rate of 5 percent, which is significantly lower than the rate of $1 plus 10 percent that the free plan provides. On a course that costs $100, you would thus keep $95 rather than $89.
The transaction charge of 5 percent really results in a small savings for you. On the other hand, if you just generate a few sales each month, I believe it is more prudent to upgrade to the Professional plan.
If you sell ten copies of your course each month and your course costs $100, Teachable will charge you a transaction fee of $50. When the month-to-month cost of the basic plan, which is $29, is included in, the total cost comes out to be the same as if one were to pay upfront for the professional plan, which is $79.
It is vital to keep an eye on your sales and ensure that the math still makes sense. If you are selling fewer than 10 copies of your courses each month, then the Basic plan could save you a little money. However, it is important to maintain track of your sales.
The Teachable Business plan comes with a ridiculously high monthly fee of $249 and is not practical for the vast majority of independent course developers. I haven't bothered to go into depth about it in this essay because of the reason stated above.
It is only practical for large businesses that require several instructors to be able to post materials since it enables for up to one hundred admin-level users to upload materials simultaneously.