The Full Guide To Magento And Why You Should Hire Developers
Magento was released in March 2008 as an open-source platform for developing eCommerce stores. The framework is written in PHP and can be used seamlessly with other PHP frameworks like Symphony, Laminas, etc.
After a decade of its existence, it was acquired by Adobe Inc in May 2018. You can expect a new Magento 2.4.6 update on March 14th, 2023 which is going to bring many interesting features to optimize your eCommerce development experience.
In this blog, we will learn more about the perks of using Magento and why searching for Magento developers for hire is essential.
Let's find out!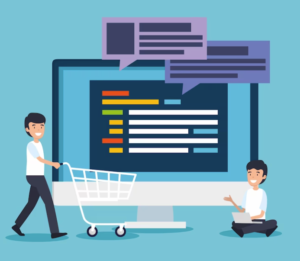 Perks of Magento development
Magneto's intuitive and easy interface makes it versatile as a content management system. You can use it for creating customized landing pages, product descriptions, blog posts, and more.
The responsive design used in Magento makes sure your online store loads seamlessly regardless of the device you use for accessing it. You also get to use various tools that can help build mobile applications for your online store.
Features like indexing and full-page caching make your Magento store load faster and improve the performance of your online store.
Several SEO-friendly features of Magento ensure you get to build a site that can rank better in SERPs (Search engine result pages).
The Magento platform has a large community of developers who can help anytime you face any issues with Magento development, testing, and deployment.
With the help of Magento marketplace integration, you will be able to integrate popular marketplaces like eBay and Amazon. It helps improve your product visibility and reach out to a larger audience segment.
It is highly customizable and can be built as per your unique business needs.
It is also possible to customize security permissions for your Magento store. So, you get to decide the level of permissions you want to give to authorized employees.
With features like upselling and cross-selling, you can push your other different products for sales.
A robust search engine on your Magento store is an added advantage as it allows users to look for desired products using SKU, and keywords, search by category, and price, or sort them in order.
These are some of the common benefits of using Magento as your eCommerce platform. But, as easy as it may sound, building a futuristic and competitive eCommerce site is no easy task.
And if you truly want to maximize the benefits of these features, you may have to hire dedicated Magento developers. Wondering if hiring a professional developer is needed or not?
Let's check!
Why Should You hire a Magento developer?
There are plenty of reasons why you should! Here, I have mentioned a few of them.
A skilled Magento developer is not only well-educated about the platform but also proficient in PHP, OOP, Javascript, CSS, LESS, etc. With diverse skill sets, they will be able to build interactive, intuitive, futuristic, and feature-rich eCommerce stores.
If you get to hire a Magento partner, you can even maximize your returns as they are most proficient with the latest trends of Magento.
An experienced developer will not only create a technically calculated site but will also use the knowledge gained from his/her experience with your product. They can assess which trends to pick and which not to. Needless to say, it is quite advantageous.
The best advantage you get when you hire Magento 2 developer is the quality development you receive alongside it. With their knowledge, skills, and experience, you can be assured of building custom eCommerce stores that can appease your target audience.
And if you find anything not appealing enough, you can always suggest and get it modified.
Your hassles are minimized greatly as you don't have to worry about the progress of your project and technical details. You will be reported by a team member or project manager about the progress and you can rest assured that your project is on track.
The cost of hiring a dedicated developer or development team will be there. Even so, you could save a lot of money and time that you put on researching, upskilling, or hiring full-time employees at your organization.
Plus, professionals can do it much faster than you will be able to and there are fewer chances of any delay or confusion.
Several Magento development companies provide after-support services for a limited period so you can keep your eCommerce store up and running smoothly. When you hire an expert Magento developer, they will help you overcome any such security issues that you might encounter after deployment.
Mentioned above are some of the reasons why you should hire expert Magento developers for your task. Further, you will need to make a careful decision by considering factors like developer skills, experience, project budget, timezone compatibility, user ratings, and reviews.
This should help you decide the best Magento developers for your eCommerce store. Make sure you also test their soft skills before hiring and get them to sign a non-disclosure agreement to get started.