What Characteristics Should a Good Architect Posses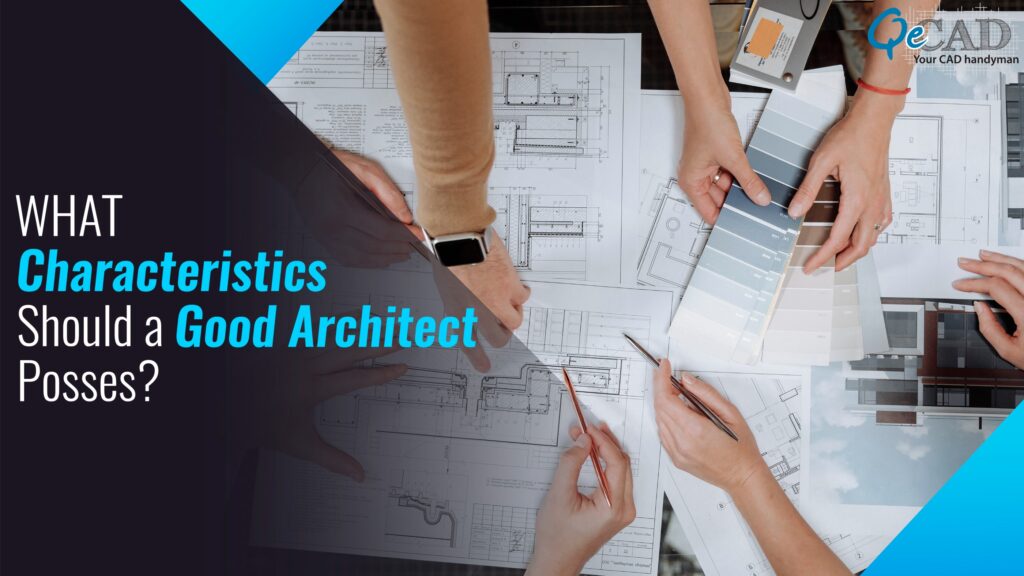 Architecture is an area that deals with the planning and designing of built structures. An architect is a professional responsible for conceptualizing and presenting these built structures in the form of sketches, drawings, drafts, and digital representations. Their job is quite crucial and tricky as it involves drafting the designs that will act as a roadmap for further construction. It's their duty to add aesthetics to the structures to shape society and appeal to the end customers. Becoming a good architect is a complex role. It requires a healthy mix of hard work, determination, and other skill sets to create masterpieces and enrich the world with architectural beauty. Having a good architect will help you with accurate Drafting Services and transform the look and feel of your architectural projects. Let's dive deep into some of the characteristics/skills an architect must persist in to make your project stand out among the crowd.
Visualization Skills
The role of an architect demands good foresight as it helps them to pen down their visualizations accurately. Visualization skills help the architect understand the project better from all perspectives in the real environment and will also help address the potential challenges beforehand. Being a visionary will guide an architect through all the stages of planning and designing any building structure.
Creative Skills
Architects' role requires creativity at the forefront since modern architecture demands design to be unique and artistic, which will take the architectural world to a whole new level. Creativity will help them think out of the box and stand out among the competition. Being imaginative will bring out the best creativity among other architects. Trying new ideas and techniques in designing and drafting with the twist of innovation will make the construction project different from the others. Creative solutions will also help architects explore design iterations and present the best for execution.
Drawing & Designing Skills
An architect must possess impeccable designing and drafting skills to survive in the architectural world. Their designs speak on their behalf of them. To curate the client's ideas and thoughts to a canvas, they should have extraordinary design skills. Representing a combination of functionality with visual appeal is what the AEC industry expects from an architect. They should also be well versed with the industry standards and codes for designing any building structure.
Mathematical Skills
The artistic and creative aspects are not just enough for an architect. To be successful, they should be good at maths too. Fluency in geometry will help them to analyze and design, considering various angles. Also, Fluent numerical skills will allow them to design the project according to the allocated budget.
Software Skills
Traditionally, an architect used to draw or sketch on a piece of paper, but with technological advancement, there are ways they can depict their idea digitally. Many software is available to represent an architect's perspective in more detail, especially for the architectural world. They should be proficient with their software skills and should keep their software bucket updated. Their updated technical skills will add value to delivering clash-free projects.
Analytical Skills
An architect should be good with interpretations and analysis. This will help their design to be more precise and accurate. They should be able to analyze different iterations and outcomes for effective design selection and crucial decision-making. Good analytical skills will help them be proactive in responding to momentary design issues and thinking of alternative drafts or coming up with some effective design strategies.
Communication Skills
Architect's role involves dealing with many people, including clients, engineers, contractors, and others. They should be good enough at communicating their design intent with their communication skills. Being good in communication for an architect means being good with verbal, conceptual, documentation, and drafting.
Ability to Be a Team Player
As stated above, architects need to be in sync with many people. To be successful with his designs, he should be a team player. He should collaborate well with the other teams to deliver his ideas in an executable format. Being a team player will allow him to address clients' concerns and queries resulting in the desired output and achieving the ultimate design goal.
Conclusion:
In addition to the above, an architect must have some great insights into traditional and historic architectural concepts, their evolution, techniques, and other architectural know-how. To cater worldwide, they should be well aware of the global architectural design standards and codes. They should also possess good listening skills to understand and envision the client's ideas. Lastly, an architect should provide accurate Construction Documentation Services for any project that will be of great use to the builders, contractors, and other AEC professionals