Golf has long been considered a men's sport, but the history of women in golf is a rich and inspiring one. From the pioneers who paved the way to the current female stars, women have overcome numerous obstacles to play and succeed in golf.
However, the journey toward equality has not always been smooth. In this blog post, we will explore the history of women in golf and the journey to equality.
Section 1: The Pioneers of Women's Golf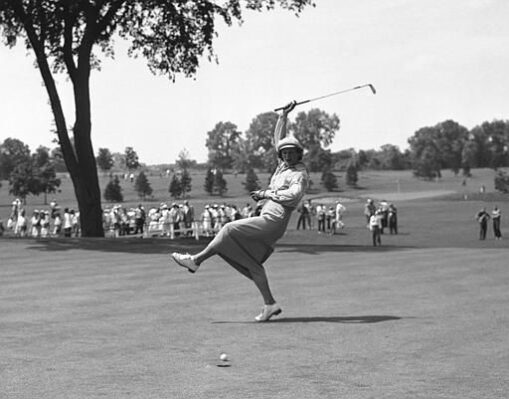 The first recorded women's golf tournament took place in 1811 in Scotland. However, it wasn't until the late 19th and early 20th centuries that women began to participate in golf on a larger scale.
In 1893, the Women's Golf Association of Great Britain and Ireland was founded, and in 1894, the first US Women's Amateur Championship was held. These early pioneers faced many obstacles, including societal pressures against women playing sports and a lack of access to courses and equipment.
One of the most prominent pioneers of women's golf was Babe Didrikson Zaharias. She won 10 LPGA major championships and is widely considered one of the greatest female athletes of all time. However, her success was not always celebrated, and she faced criticism and discrimination due to her gender and athletic prowess.
Section 2: The Rise of Women's Golf
In the mid-20th century, women's golf began to gain more mainstream recognition. In 1950, the Ladies Professional Golf Association (LPGA) was founded, and in 1951, the first LPGA Championship was held. The LPGA provided a platform for female golfers to showcase their skills and paved the way for greater opportunities for women in golf.
One of the most notable players of this era was Mickey Wright. She won 13 LPGA major championships and dominated the sport in the 1950s and 1960s. Her success helped to further popularize women's golf and inspire a new generation of female golfers.
Section 3: The Struggle for Equality
Despite the progress made by women in golf, the journey toward equality has not been without its challenges. Even as recently as the 1990s, women's golf was still struggling for recognition and equal opportunities. For example, in 1990, Augusta National Golf Club, the host of the prestigious Master's tournament, did not admit its first female member until 2012.
One of the most vocal advocates for women's golf in the 1990s was Nancy Lopez. She won 48 LPGA Tour events and used her platform to advocate for greater recognition and respect for female golfers. Thanks to the efforts of Lopez and other pioneers, women's golf has made significant strides toward equality in recent years.
Section 4: The Current State of Women's Golf
Today, women's golf is thriving. The LPGA Tour features some of the best golfers in the world, including superstars like Lydia Ko, Nelly Korda, and Inbee Park. The LPGA also provides opportunities for women from all over the world to compete and pursue their dreams of playing professional golf.
In addition, women's golf is also gaining greater recognition in other areas of the sport. For example, in 2019, the Augusta National Women's Amateur Championship was held for the first time, providing a new platform for female amateur golfers to showcase their skills.
Section 5: Looking to the Future
While the progress made by women in golf is impressive, there is still work to be done to achieve full equality in the sport. Women's golf still lags behind men's golf in terms of prize money and recognition, and there are still barriers to entry for female golfers in terms of access to courses, equipment, and sponsorship opportunities.
However, there are many initiatives and organizations dedicated to promoting women's golf and advancing equality in the sport. For example, the Ladies Professional Golf Association (LPGA) is the largest women's professional sports organization in the world, and it provides opportunities for female golfers to compete at the highest level.
The LPGA also runs programs to encourage young girls to take up golf and provides scholarships for aspiring female golfers. Other organizations, such as the Women's Golf Foundation and the Women's Golf Network, also work to promote women's golf and increase opportunities for female players.
With continued efforts from these organizations and individuals, the future looks bright for women in golf, and we can hope to see more female golfers breaking barriers and achieving success in the sport.
And for those looking to get involved in the sport, whether as a beginner or a seasoned pro, there are numerous resources available, including golf courses, driving ranges, and indoor golf facilities like indoor golf NYC, that provide opportunities to hone one's skills and enjoy the game year-round.
As we celebrate the rich history and bright future of women in golf, let us also strive to create a more inclusive and welcoming environment for all golfers, regardless of gender, race, or background.
Conclusion
In conclusion, the journey of women in golf has been a long and challenging one, marked by impressive achievements and inspiring stories of resilience and determination.
From the pioneering efforts of the likes of Babe Zaharias and Mickey Wright to the current crop of talented female golfers like Jin Young Ko and Nelly Korda, women in golf have demonstrated their skills, dedication, and passion for the sport.
While significant progress has been made in recent years, it is clear that more work needs to be done to achieve full equality and inclusivity in the sport. With continued efforts to break down barriers, promote diversity, and empower female golfers, the future of women in golf looks bright and promising.