Blueprints Of Push Notifications For Increasing Sales In E-commerce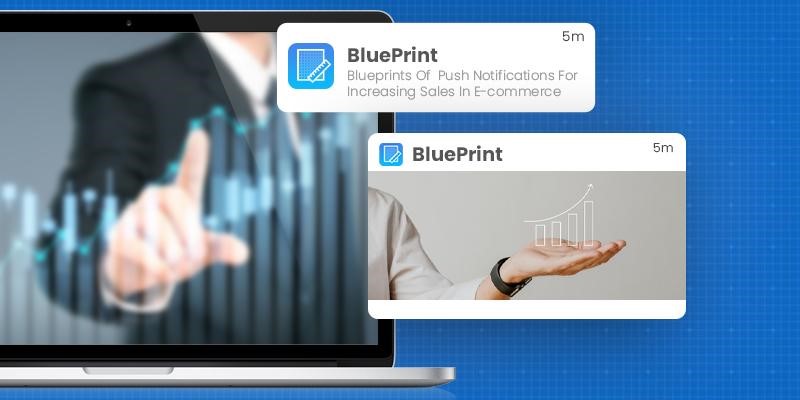 As the world is developing and getting advanced with time, the technologies are also getting advanced. Businesses are shifting towards online platforms for better growth and opportunities. The COVID-19 pandemic is also one of the reasons which lead businesses to move towards online platforms. Earlier customers used to prefer offline experience, but now customers' preferences have changed towards online experiences, leading to a highly competitive market on e-commerce platforms.
To survive and grow in such a competitive environment, businesses require marketing tools to promote their products. There are numerous marketing tools to promote online businesses and web push notifications are also one of the latest and most successful marketing tools in the market.
Web push notifications are the messages that pop up on the viewer's gadget from a web page that the user visited previously. These pages are designed in such a manner that the viewer gets attracted towards them and clicks on them which lands on the website or page that the marketer is trying to advertise. These are generally informative and rich content messages that are sent to the viewer's site for engagement purposes, increment of sales, increment of conversion rate, etc.
Now lets brief and explain to you more how web push notifications help in increasing sales with the help of some blueprints:-
1. Abandoned cart notifications
Many customers visit websites, add products to the cart and depart without buying the product.
These customers are required to remind within a limited time for building the potential for bringing back the lost revenue. Sometimes, these notifications are also sent to ensure that if the customer got distracted while purchasing the product, make them remember to make the purchase. Customers can be lured to buy the product by sending messages such as price drops, free shipping, discounts, etc.
2. Special first purchase offers
Customers should be persuaded for making the first purchase by giving them special offers on their first purchase. Special discount offers and coupon codes should be given to convenience them for purchasing the product. For example 20% instant discount on your first order or free shipping on your first order.
3. Price slash alerts
You need to inform your viewers and customers about price drops of the products through these messages. These alerts can increase sales potential as these messages intend the customer to buy the product if earlier they left the product due to overpricing or did not consider it as value for money. These notifications should be sent for products that the customer left in their wishlist or cart. This will encourage and prompt the user for purchase the product.
4. Recalling dormant customers
Customers which have not purchased products for a while or have not visited the website for a long time are required to send such notifications. These users get inactive and are required to send offers and benefits to lure them to visit the website for making a purchase. Such customers only make purchases when they are offered special discounts or coupons.
5. Customized suggestions
Based on the buying behavior of the customer and as per their preferences, they should be offered products of their choice or which they prefer buying. Such as summer shirts for you, skincare products for the improvement of skin, handpicked outfits exclusively for you. These types of customized suggestions will surely help in generating and boosting sales.
Final Denouement
We can conclude that there are many marketing tools for boosting sales in the e-commerce platform and web push notifications are also one of them but it is much more successful and effective as compared to other tools.
If businesses need to grow and increase their sales then web push notifications and other marketing tools are a must. If you want to gain more knowledge and understanding about web push notifications, then you can visit our website EngageAsap.
Author Bio:
Rupinder Kaur works as SEO Analyst and passionate writer. She is currently all in works writing about marketing, technology and trends in accounting and tax.