How Can I Extract Bulk Mobile Numbers From LinkedIn?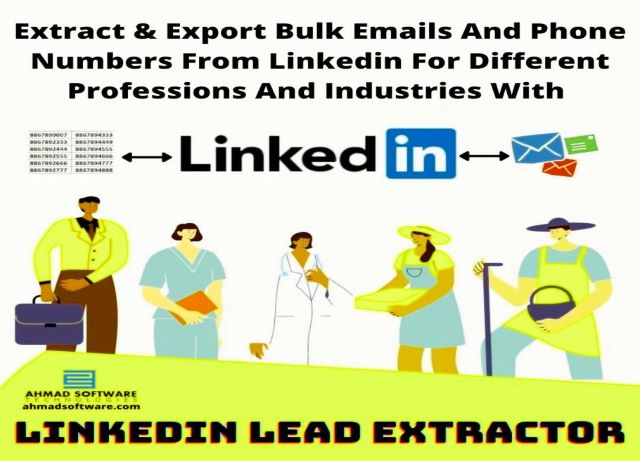 It's well known that LinkedIn is the best source for finding potential leads for any industry or category. You can run ads on LinkedIn to find prospects' details and it also allows you to perform really specific searches for people on the platform.
However, you'll quickly find the issue with LinkedIn. Unless you have a 1st-degree connection with the person, you can't see their contact information. If you want to see his contact information, you have to send him a contact request first to see his contact details.
So, you've found the person, market, or region that you want to target with your telemarketing campaign… but how do you find a phone number on LinkedIn? There are many ways, tools, and techniques to find and get contact details from LinkedIn profiles.
In this article, you'll learn how to automatically find and get phone numbers and other contact information from LinkedIn in minutes.
How To Find And Get Phone Numbers From LinkedIn Automatically?
You can use LinkedIn automation tools to find phone numbers and emails from LinkedIn accounts. Is there a tool to extract the data from LinkedIn profiles with only a couple of clicks?
There are lots and lots of tools that could potentially be useful in getting contact information from LinkedIn profiles. LinkedIn Lead Extractor is one of the most popular phone number finders for LinkedIn offered by Ahmad Software Technologies. They offer a web-based desktop application to make email and phone number extracting easy to access from LinkedIn profiles.
Find & Extract Phone Numbers In Bulk From LinkedIn Profiles With LinkedIn Lead Extractor
LinkedIn Leads Finder is a tool that allows you to find phone numbers through LinkedIn profiles as well as company websites. The LinkedIn Phone Number Extractor feature allows you to search by first and last name as well as the company domain and zip code for your goal contact. LinkedIn Leads Grabber comes with a three-day free trial and is widely used to scrape emails, phone numbers, and other contact information from LinkedIn profiles without writing a single line of code. The software has a feature to export the extracted data in CSV, Excel, or Text file formats.
Find And Get Phone Numbers From LinkedIn Profiles Without Any Software For Free
While using LinkedIn Email Lead Extractor to extract emails and phone numbers from LinkedIn is one of the best and most convenient ways to do the task, there are some other ways that can help you get user data from LinkedIn profiles.
But this is possible with only 1st degree connections on LinkedIn by following these steps:
You have to search for someone by name and then click on the profile of the user to get contact information. In the profile section, you have to click on "contact info" to get the contact details of the user.
In this way, you have to open each profile and then click on the "contact info" button to get user data, and then you have to arrange this data and save this data in Excel or CSV file for use. Another problem is that, if the user makes his data private, you can't see this data. It will take several months to collect emails and phone numbers from a few LinkedIn profiles while by using LinkedIn Lead Data Extractor, you can collect this data in one day with 100% accuracy.
Conclusion:
As you can see, getting emails and phone numbers from LinkedIn profiles can be a lengthy process but LinkedIn Contact Number Extractor makes this whole process automatic and easy for everyone.