Four high-performing electric cars worth your consideration
"The future is EV" the mentioned word is enough to tell the importance of Electric Vehicles. The highest-performing cars with stunning features and powerful motors cover the highest range. Electric vehicles are expensive yet powerful also contributing to a healthier environment.
These electric vehicles are phenomenal and eliminating the use of traditional gasoline-powered vehicles that harm the environment. Electric vehicles are more practical and easy to drive and deliver an impeccable performance. The customers have the option to buy used electric cars under 5000.
We have listed a few electric vehicles that are worth investing in 2021.
Tesla Model X
2021 Tesla Model X SUV comes equipped with a long-range battery capacity. It has two electric motors with performance car acceleration and an all-wheel drive. Model X has nimble handling, more practical with 3-row of seats.
Tesla Model X is fully refreshed from inside and outside loaded with a series of features. It has a more clean and subtle looking cabin with an intuitive infotainment system and F1 square steering wheel. Model X went 0-60 mph in just 2.5 seconds and has a 1020-hp three electric motors and attains 0-60 mph in 2.5 seconds. The technology-advanced vehicle has a series of driver-assistance features and self-driving technologies.
2021 Audi Q4 e-Tron
Audi Q4 e-Tron luxury crossover is the first EV sharing Volkswagen modular electric vehicle platform. It comes equipped with an 82.0kwh battery that covers a range of 280 miles. The electric motor is attached and provides power to each axle and delivers 300 horsepower.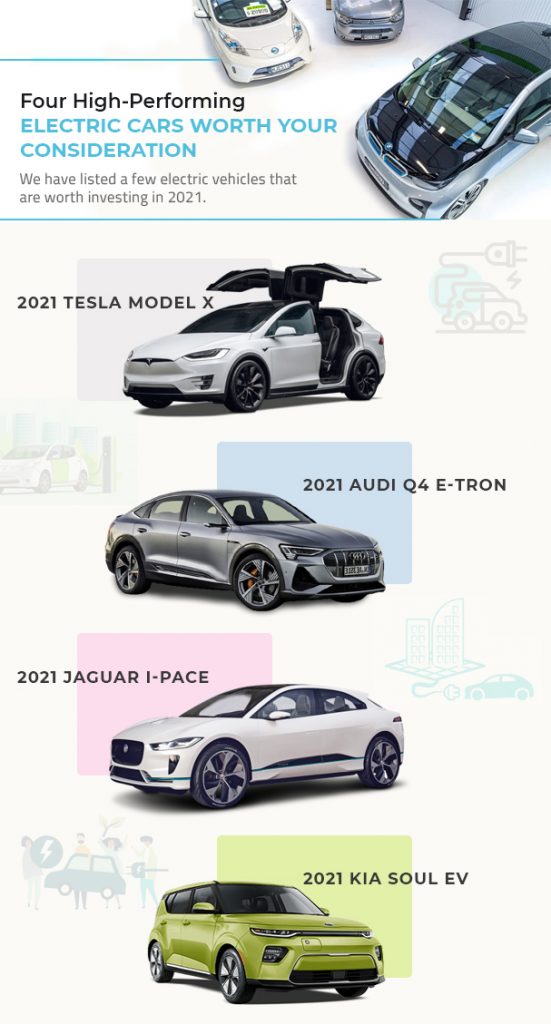 Q4 e-Tron has nimble handling and covers a range of 0-60 mph in 6.3 seconds. Audi will be giving tough competition to Tesla Model Y and Volvo XC40 Recharge. Audi will soon be introducing an electric SUV, Sedan, and Sportsback model of the e-Tron.
2021 Jaguar I-Pace
2021 Jaguar I-Pace luxury electric crossover with stunning looks and powerful performance. I-Pace captures the imagination and turns it into reality with its fast-charging capability and powerful acceleration. It has refined handling of sports cars with a controlled demeanor and steering wheel.
Jaguar has high-end technology, impressive design, ample amount of passenger space, and features. 2021 line-up has received a handful of improvements and adds optional bright package that adds chrome exterior trims, Atlas grey accents, and other styling updates.
It has an 11.0kw onboard charger that provides quicker charging at home and takes 8.6 hours to fully charge a vehicle. It has two different electric motors that generate 394 horsepower and 512 pound-feet of torque. It runs effortlessly on-road and delivers a comfortable ride.
2021 Kia Soul EV
2021 Kia Soul EV is a compact emission-free SUV with an electric motor that pleases the eye and catches everyone's attention. It has bolder looking styling, fast acceleration, and extended driving range. The electric motor is attached to the front wheels with single-speed direct transmission.
It has a peppy engine and improves fuel economy. The model is equipped with a 64.0kwh battery that can be charged in public stations or at home with 240 and 110-volt charging stations. The Ev has refreshed looks with the gasoline-powered engine and can occupy four adults. The luxury vehicle is loaded with luxurious and tech features.
The customers have the option to personalize their trims in different colors. It has modern features such as wireless charging, a head-up display, cargo space, seven carry-on suitcases space behind the rear seat. Soul has a large 10.3-inch display with the in-built navigation system, six-speaker stereo system, and upgraded Harmon Kardon premium set-up. It features a series of safety features that have passed the crash test by NHTSA. Save big, Payless, and invest in a healthier environment with Briggs Kia.