5 Tips to Use to Ensure You Make the Right Remote Hire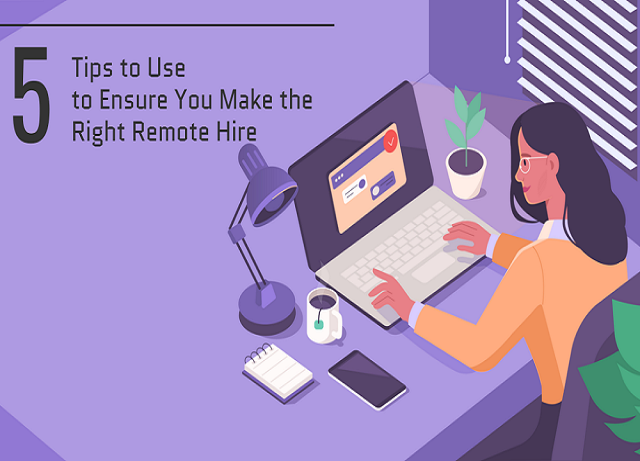 All business owners know that recruiting excellent employees requires an exceptional amount of preparation and arduous work. There is much to evaluate when entering the hiring phase including constructing comprehensive job descriptions, combing through resumes and cover letters, arranging interviews, and number-crunching possible pay scales.
Recruiting style differs greatly when you shift away from hiring in-person employees in an effort to grow your remote team. There are a range of possible caveats that can make the process much more nuanced than you may initially expect. You may already have a remote work program in place but if your company was forced to go remote due to the ongoing COVID-19 pandemic, you may find yourself scratching your head trying to figure out how to navigate the waters of telecommuting.
Knowing that you might never see your remote staff face to face changes the dynamic of the recruiting process in more ways than one. There are a sprawling variety of additional considerations to keep in mind before you jump into carving out an all-new hiring process, and we're here to shed light on these distinctions. In this post, we'll walk you through all of the tips you should heed while hiring a remote employee.
Tip 1: Create a job listing
If you're looking to hire a remote employee who can satisfy your particular business roles, you first need to gain a clear understanding of what your ambitions and priorities look like. Meticulously identifying your company's priorities and objectives is the first step in shortening your likely lengthy list of growth-centered initiatives.
Next, you need to assess the level of expertise you expect from your potential hire. It may be helpful to research habits of successful people within the role that you are hiring for in an effort to determine the most important skill sets. With this essential criteria at the forefront of your mind, you will be optimally positioned to create a job description that pulls the kind of talent you're looking for.
To create the perfect job description, be sure to include these key elements:
Job Title: The job title plainly states the name of the position that needs to be filled. Stick to industry standards to avoid confusing potential hires (i.e. SEO analyst, web designer, finance specialist, tax preparer, etc.)
Job Summary: Here is where you should detail the day-to-day processes the applicant can expect if they land the position. The job summary should include a brief overview of the role and how it pertains to the company's goals and growth.
Duties: To concisely outline the responsibilities the candidate will be accountable for, create a bulleted list that is readable and digestible. And due to the remote nature of the position, be sure to also explain the hours they will be required to work and any software or programs they should be familiar with.
Qualifications: Should you require any academic degrees or other qualifications, list them here.
When your job listing has been completed and is ready to be uploaded, post it to your choice of online job boards so the candidates can access it and apply.
Tip 2: Post listings on reputable job boards
When you want top-tier prospective talent, you need to make sure that your job openings are listed on credible websites. At the end of the day, you want to make sure that your company is represented in the best and most competent light possible— so while posting your job opening on Craigslist may broaden your pool of applicants, you may not necessarily open your pool to qualified candidates.
Try out these high-success rate classified sites:
Indeed
Glassdoor
CareerBuilder
SimplyHired
Google for Jobs
Tip 3: Pre-Interview Candidates
With a growing number of applications flooding your inbox, all that remains to be achieved is to find the right candidate for the job. Pre-screening applicants by phone or video conference is a wonderful way to get a feel for the person behind the resume and get a better idea of their background and interest in the job.
Thanks to the increasing abundance of online resources, ranging from background identity checks to credit checks, there are a myriad of useful tools you can use to pre-screen employees and find out information about them that they might not outwardly reveal in a one-on-one interview.
Tip 4: Fine-tune your interview tactics
There's no time like the present to add video-interviewing to your constantly growing wheelhouse of skills. Your interview process is one of the most important facets of talent scouting, so it's imperative that you take the necessary steps to ensure that your tactics are thoroughly vetted to yield the results you need.
While you don't want to browbeat your potential remote hire and leave them feeling scared at the conclusion of your interview, it's important to ascertain that you mean business. And, despite the job allowing your potential hire to work from the comfort of their home, you expect your needs and goals to be met, no exceptions.
Before going into your first round of video-conference interviews, set up a meeting with your internal staff to put together a list of your company's top strategic objectives and the necessary attributes that your dream candidate should have. Then, come up with a list of exemplary interview questions that inform you of the applicant's job experience, work ethic, and other important background tidbits.
Tip 5: Host multiple rounds of interviews
Once you've sorted through all of the applications in your inbox and have effectively narrowed the pile down to a shortlist of promising candidates that you've already pre-screened, the interview phase comes next. To get the most genuine read on a potential hire, consider hosting three rounds of phone or video interviews, with each covering a different topic or theme. This will give you a broader, more interesting look into the person and allow you to gain a firm grasp on their work ethic, work history, and personality.
Wrapping up
While you may be wary to recruit remote workers at first, the right tips and tactics can make transitioning your hiring process a breeze. Whether you're in your first year in business and are only now recruiting the first few employees, or you're a seasoned company owner adjusting to the remote work limitations of the COVID-19 pandemic, using these tips will only help you grow in the direction you've set your sights on.
Samantha Rupp
Samantha Rupp holds a Bachelor of Science in Business Administration and is the managing editor for 365businesstips.com. She lives in San Diego, California and enjoys spending time on the beach, reading up on current industry trends, and traveling.