RecordCast records the video from the computer screen online without programs and modifies the recorded video without searching any other tools. You will not need to download a computer screen capture program with the RecordCast site.
There are a lot of things the browser can do right now. In many cases, It even replaces the program, and even the browser plug-in does not require additional installation. Most of us know Screenapp.io, and it's a convenient tool. You can select the window to record directly from the browser, and then you can convert a series of actions into a video for users to export and download.
But there is nothing wrong with temporary screen recording. If you want more functionality, then you should use professional recording tools, like Screencastify, which I personally like, Screencast-O-Matic or ActivePresenter for Windows, Mac OS, etc.
The RecordCast screen recorder recommended in this article is an online tool that can record screen images through a browser. There is no requirement to get other additional software installed on your computer. After recording, there are only three primary buttons to re-record, pause and download. Before exporting in MP4 format, you can preview the screencast online, and you can also upload them to the built-in video editing tool.
Recordcast is similar to screenapp.io. Both can record specific window screens through the browser, and the operation is simple. Compared to screenapp.io, RecordCast is a little brighter. The interface is quite intuitive, and it can fulfill the basic requirements of screen recording, and it is a very quick solution to almost all screen video needs.
Steps to use RecordCast
Step 1. Adjust settings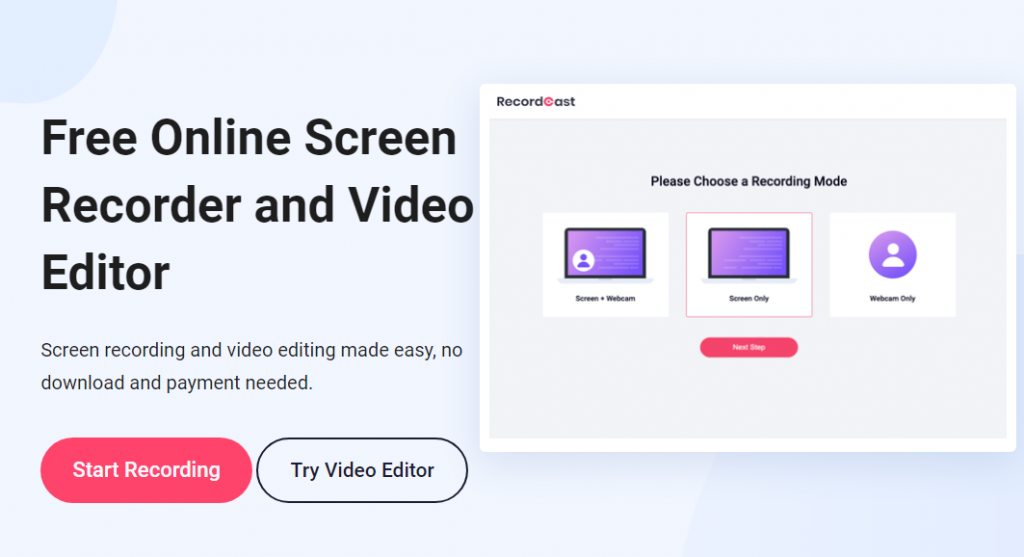 Go to the website: https://www.recordcast.com/ and press the "Start Recording" button. Once there, you can select the recording mode that best suits your purpose (computer screen and webcam at the same time, computer screen, or webcam only). It is also free to choose from four different audio recording options. You can choose what you want to share (entire screen, application window, or browser tab)
Step 2. Recording
After clicking Share, an instant message will appear asking your permission. Recordcast will need the share window or screen permission. If you do not allow the website to access your screen, you will not be able to record normally.
At the same time, RecordCast will also request permission to access the camera of the computer.
Step 3. Finish recording
After completing the recording, just click" Stop and you will see a preview of the movie screen. You can watch the just recorded video directly from the browser. If all is well, click download and export the recording in WebM format.
The advantage of this service is that you can choose which window you want to record. If you just want to record the operation of a specific website, you can just select the browser tab directly, and unrelated screens will not be recorded in the video.
Step 4. Edit the video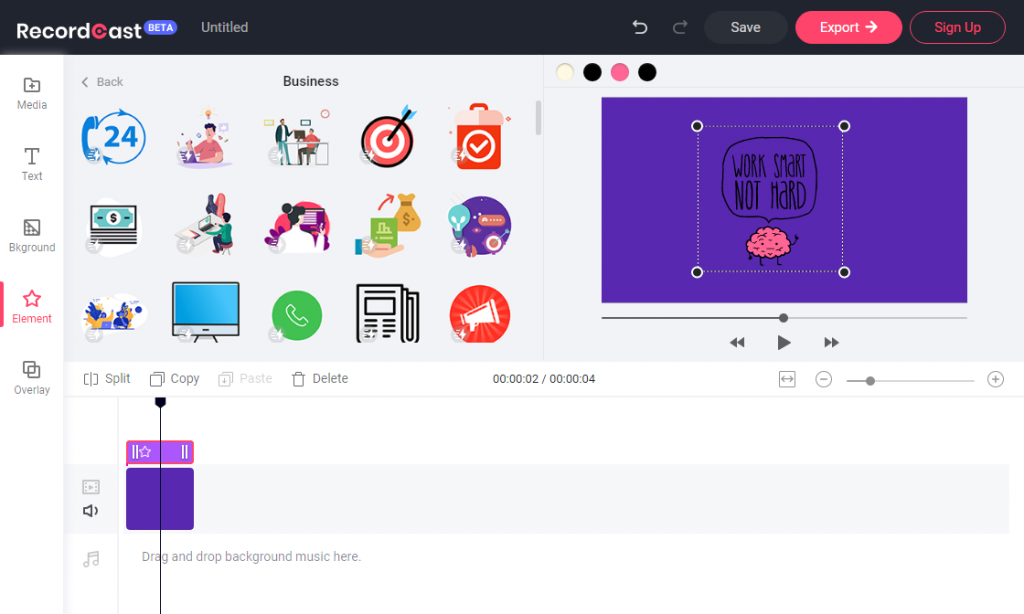 This is for those who want to export the recording as MP4 with high-quality. With RecordCast video editor, you can add images, videos, music, text, elements, background, transition, overlays to your recording and combine them into a fantastic video. You can adjust each added object with different color, size, position, time duration, etc.
What I like most is its millions of elements, with different styles, categories, and for various occasions. I can search for one I like with a specific keyword and then change the elements' properties to the best result.
It's time to try
As you can see, the whole screen recording process can be performed through the browser with RecordCast. There are no demands to download and install software or plug-ins. What's more, camera and audio recording are possible when recording the screen at the same time. You can even select the recording area you want.
Film your computer screen online with RecordCast now, no charge, no ads, no watermarks, no downloading too. What are you waiting for?