There are 14 things you should accomplish before launching your website.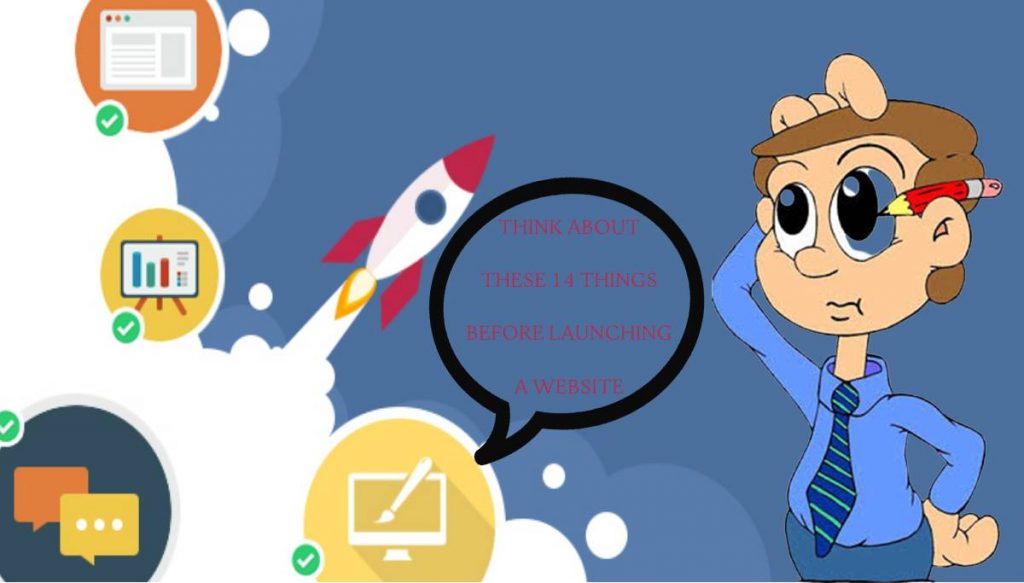 Getting ready to build a website is an exciting moment for many people. It's time to think about what needs to be updated and focus on prospective design implementations and style improvements. This can be worrisome if you haven't made a list to keep track of all the tasks.
We've put together a list of 14 things to do before launching your website to make sure you don't forget anything.
How to Make Your Own Website
One of the most significant elements to consider when preparing to develop a website is the design. In terms of relevance, it's only second to the quality of the content you want to host, so pay attention to the website development services.
When users come to your website, you want them to have a good time. That'll entice them to come back, allowing you to grow your user base. The following is a list of design elements on which you should focus in order to make your website look amazing.
1. Choose your website's colours carefully.
When choosing colours for your website, it's tempting to go the easy route and utilise the default colour scheme that comes with your website building software or theme. That's not always a bad thing to do, as long as the colour scheme matches your brand and message. You'll need to make some modifications before the launch date if you're displeased with your colour choices.
Make sure you approve all of the colours on your site, that you stay faithful to your brand's colours, and that you don't use any overly bright colours. Avoid employing a colour scheme with a high contrast or colours that aren't artistically or operationally appropriate with your website's aesthetics and layout.
2. Choose the Right Fonts
Your website's legible content is the most important aspect of your internet presence. That means you need to make sure your typefaces are readable and acceptable for the style and content of your website.
If you want to deliver a lighter message, choose a typeface that matches the tone and content of your message. If you're running a company website and need to express professionalism, a more classic, official typeface is usually the best choice.
Make sure your typefaces are the same size and spacing, and that your phrases and paragraphs are well-structured for simple reading. Your visitors will find it difficult to understand your site if you employ contrasted text against a sharp background colour.
3. Focus on your brand.
Ascertain that the message of your company is clear and well-represented. You shouldn't have to rely on your visitors to figure out what you're selling or delivering. People need to know who you are and what you do as soon as they visit your homepage. Branding effectively improves the user experience while also increasing your online presence. It should start with your first engagement with website visitors.
4. How to Make and Use Favicons
A favicon, often called a website icon or tab icon, is a little graphic that appears next to the page title in the browser tab. With a favicon, your website will appear more professional. It gives your visitors the idea that you care about the aesthetic of your website and that you spent a lot of time and effort making it. A small element like a favicon can go a long way toward making a positive first impression, boosting the possibility that visitors will return to your site and use your services again in the future.
5. Make your social media accounts work together.
Whether you like it or not, social media is here to stay. Many people's personal and professional lives have become inextricably linked because of it. As a result, you should have a presence on as many social media marketing platforms as possible if you want to advertise your business.
You have the option of linking to any of the main social networks, but a direct link to your Twitter and Facebook accounts is a good place to start. You may use a variety of website plugins and services to connect to the internet, so do some research to see which ones would work best for you.
6. Choose an expiration date for the copyright.
One of the most important things to include when creating your website is the current copyright date, especially if it's near the end of the year.
You won't have to worry about manually changing this date very often if you use WordPress or Joomla. However, you should be aware that until the copyright date is changed, your website will appear neglected and abandoned.
Users will typically avoid sites that aren't updated on a regular basis, and a copyright date that has passed its expiration date is a clear indicator of neglect. Because copyright expiration dates might affect your SEO ranking, it's critical to keep them up to current. Even if the changes you make to the site are modest, remember to update the copyright date.
Content
As previously stated, the most crucial part of your website is its content. Although design is important, content takes precedence. It's what will either draw or repel people to your website. As a result, you cannot afford to have any inaccuracies in your material when launching your website.
7. Proofread, edit, and spell-check
Whether it's an interview, a product review, or a news storey, if you're like most website owners, you realise the value of well-written content. If users see faults in syntax, spelling, and sentence structure, they will assume you aren't paying attention to your subject, or worse, that you don't care about it.
Spell check as thoroughly as possible because misspelt words might detract from your message. If you don't want to make a negative first impression, proofread everything before putting it on your website. There are a plethora of free online spelling and grammar tools to choose from, with many of them being WordPress and Joomla plugins.
If you want to take your blog or news site to the next level, hire an editor or proofreader. This will help you engage effectively with your readers by giving your content a professional appearance.
8. Examine your website's operation.
We recognise that testing your website isn't the most pleasurable process in the world, but it's critical to guarantee that each component works properly before going live. Verify that your contact forms, as well as any other functioning components of your website, are up and running.
If you know how to programme, you should consider building your own automated tests, particularly if you have a large number of elements and browser compatibilities to check. The initial investment of time and effort may pay off handsomely in the long run. Writing automated tests allows you to avoid manual testing, giving you more time to focus on other vital activities.
9. Double-check and put your CTAs to the test.
Although marketing and sales aren't for everyone, you'll need a Call To Action if you want your users to do something, such as sign up for a newsletter, buy a product, or submit a question. Make sure it stands out and is straightforward for your users to use. If you make the process difficult or unpleasant, you can't expect your website visitors to perform what you want.
10. Reduce the image's size.
Your website should be both visually appealing and functional. You may need to optimise your images to make sure they're the proper size for this.
If you use large graphics and photos throughout your site, you should expect your mobile visitors and those with limited bandwidth to have a less than ideal experience. Instead, try to find a compromise between fast loading times and high-quality images. With a little resizing, you may expect results that not only look great but also make your website run faster.
Make sure that all of the stuff you're using is yours, or that if it isn't, you have all of the necessary permissions to publish it. This applies to all of your graphic content, so be sure you have everything in order before you start adding photos.
11. Take advantage of videos
Don't be concerned if you haven't yet created any video content for your website. If you want to incorporate (or link to) videos, you have a couple of alternatives.
Most websites don't host their own video files any longer. Instead, they employ the assistance of video-sharing platforms to perform all of the heavy lifting for them.
By creating a channel on sites like YouTube and Vimeo, you may host your work. This allows you to link to your videos with a simple URL or embed them directly into your website. This frees up a huge amount of processing power on your website, saving you money on the cost of hosting large video files.
Stress It is necessary to test your user interface.
When it comes to user experience, your website's interface is critical. It should attempt to make browsing as simple as possible, with simple navigation and search options. To put it another way, customers shouldn't have to work too hard to find what they're looking for on your website.
12. Consider the Factors of Layout
Testing entails a thorough examination of your site's layout, but it's an important step to do. Your website's effectiveness will increase as it becomes more user-friendly.
Users of the internet are spoiled for choice. A normal user will look for another choice if anything on a website does not work as it should. Remember that many consumers would rather go somewhere else than deal with a difficult-to-navigate website, so keep in mind that your visitors have plenty of other options.
Additionally, because people are unlikely to assist you with problem reports and troubleshooting, you must complete all of the testing well before visitors come on your site.
13. Include a logo-based link to your homepage.
Even though it is relatively easy to create, a logo homepage link is an important feature that some older websites lack. It's an ingenious idea because it allows users to return to your home page by clicking on your logo. Every website should have a logo homepage link, so make sure to add one.
14. Look at the Buttons
There's a good possibility you'll have buttons associated with each of your website's functionalities. Because they all have various functions and goals, you'll need to test each one to ensure that it accomplishes what it's supposed to do without making any errors.
Summary:
Launching a website these days can be expensive and time-consuming, and the last thing you want to do is make a mistake. We've come up with 14 things you can do before releasing your fresh new website once we got over our worries and got creative with our marketing.
Author:
At MightyWarner, Ahmad works as a content writer. He's worked on a variety of projects, designed websites, and dealt with a variety of technical SEO challenges. He has extensive expertise working on a variety of platforms.