In the United States, back and neck pain are among the most frequent medical conditions and causes of disability. It might be anything from subtle discomfort to a strong, stabbing pain that makes it difficult to move. Spine pain can limit movement and interfere with regular functioning and quality of life, regardless of your symptoms. Fortunately, spine care has progressed throughout time, with state-of-the-art procedures and technology that allow doctors to diagnose and treat patients.
Here is a list of top hospitals in Dubai that provide high-quality, trustworthy healthcare based on a detailed evaluation of your pain and choices for care.
9 Top Spine & Joint Centres in Dubai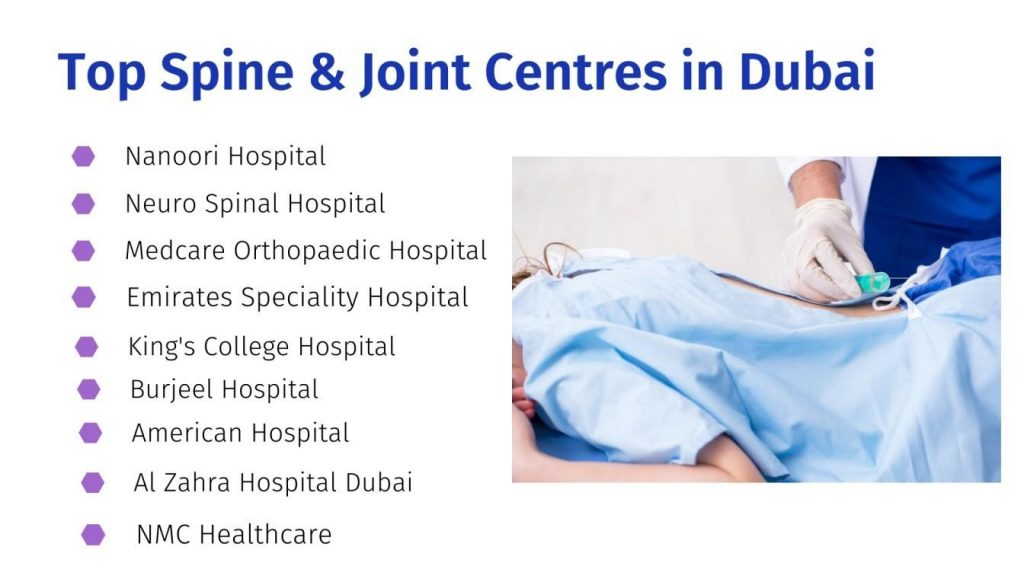 1. Nanoori Hospital
Nanoori Hospital is one of the best orthopaedic hospitals in Dubai, UAE. Nanoori Hospital partnered with Saudi German Hospital and started its operations in Dubai since 2000. Founded in different cities in South Korea, Nanoori Hospital is on a mission to make a mark in the globe to be the best Spine and Joint Clinic.
2. Neuro Spinal Hospital
The Neuro-Spinal Hospital was created with patients and their families in mind. The hospital blends a therapeutic environment with world-class expertise and cutting-edge diagnostic and treatment technology. This includes the UAE's first Cyberknife, a ground-breaking alternative to open surgery that allows patients to get world-class treatment near to home and family.
The facility's state-of-the-art diagnostic imaging equipment is the most modern and up-to-date in the region, ensuring the clearest possible findings while maintaining the highest level of accuracy and safety.
3. Medcare Orthopaedic spine Hospital
Medcare offers the greatest healthcare in the world to the UAE. Their multi-speciality hospitals, medical centres, and hundreds of specialised specialists are all dedicated to one thing: your and your family's health. They uphold the highest possible standards in all aspects of healthcare, with physicians, treatments, facilities, and paramedical assistance on par with the best in the world. The Joint Commission International (JCI), which is widely regarded as the gold standard in worldwide healthcare, has recognised all Medcare hospitals.
4. Emirates Speciality Hospital
The Emirates Specialty Hospital is part of the Emirates Healthcare Group, which has over 70 locations in nine countries. The 90-bed multi-speciality hospital, located in Dubai Healthcare City, is a value-add to the UAE and GCC health sectors, with premier medical and surgical specialists delivering state-of-the-art healthcare solutions.
Emirates Specialty Hospital is a 205,000-square-foot facility that provides an unrivalled spectrum of much-needed specialisations in sectors such as orthopaedics, spine surgery, and bariatric surgery, as well as urology and minimally-invasive surgery.
5. King's College Hospital
King's College Hospital Dubai was founded to meet the healthcare requirements of the entire family, and its clinics can give the highest levels of healthcare, including consultations, diagnostic tests, treatments, and recovery support, regardless of how simple or complex your medical condition is. Around one-third of the clinical workforce, including all department heads, was recruited from the United Kingdom, particularly King's College Hospital and its partner institutions in the United Kingdom.
The majority of their doctors are educated and trained in the United Kingdom and have extensive experience working in the National Health Service of the United Kingdom (NHS).
6. Burjeel Hospital
Burjeel Hospital for Advanced Surgery (BHAS) is a leading medical facility in the region, providing high-quality, cutting-edge care. Joint Surgery, Paediatric Orthopaedics, Hand Surgery, Sports Orthopaedics, Spine Surgery, and other services are now available in three operating rooms at the facility. Patients benefit from the skills and experience of a team of highly qualified experts, many of whom are nationally and globally known.
They employ the most up-to-date methods, such as the newest non-surgical and minimally invasive arthroscopic techniques, to help you heal faster, control pain, and treat all orthopaedic issues.
7. American Hospital
The Mohamed & Obaid Al Mulla Group's American Hospital, a renowned private healthcare provider in the Middle East, was founded in 1996 with the purpose of offering world-class medical services to the community. The 254-bed general medical/surgical private hospital boasts state-of-the-art facilities and experienced staff of healthcare experts that specialise in more than 40 medical and surgical disciplines, ensuring comprehensive treatment.
Recently, American Hospital became the first medical institution in Dubai to provide the fourth generation of the da Vinci Xi surgical system for robotic surgery, bolstering Dubai's regional position as a medical tourism destination for patients seeking world-class professional treatment.
8. Al Zahra Hospital Dubai
Al Zahra Hospital Dubai was founded in 2013, with the primary goal of providing quality medical treatment and comfort via cutting-edge technology and world-class medical expertise. The hospital, which is located on Sheikh Zayed Road, is Joint Commission Major recognised and has received a number of renowned certifications from international accreditation agencies all over the world.
The huge medical staff of Al Zahra Hospital Dubai, which includes over 250 physicians and over 400 nurses, is highly experienced in their various fields.
9. NMC Healthcare
NMC Healthcare is the UAE's largest private healthcare provider. Personalized care, real concern, and a true dedication to the overall well-being of the communities it serves have won NMC the trust of millions over the last 46 years. With its strategic acquisitions and heritage institutions, NMC has been able to fill a service need in the healthcare delivery system, allowing it to provide a continuum of care to patients in acute, chronic, and long-term care settings.
NMC owns and maintains approximately 120 healthcare institutions, including hospitals, medical centres, long-term care facilities, and day surgery centres, with a workforce of over 1200 physicians and 12000 paramedical and support employees.