The Benefits of Building an E-wallet App in 2023
If you intend to build e-wallet app. You are at the right place.
The world is moving at a very fast pace. Each day innovations make our life a little easier. Or you can say that we are living in the best techno era.
Without a doubt, digitalization has made the idea of going cashless easier with the help of digital wallets. The report shows that in 2022, 4 out of 10 Americans are using cashless payments.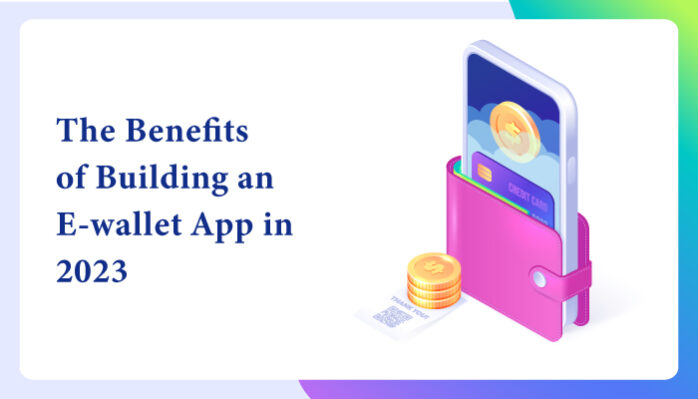 The fintech industry has gained significant transformation over the past years and changed the game of the banking industry. It will create huge opportunities for businesses in the upcoming years.
However, the global market of E-wallets valued at USD 200 billion in 2021, and it will expand at around 17% CAGR from 2022 to 2030.
Hence many businesses are now hiring e-wallet app development company that create custom apps like amazon pay to sell and buy products. This e-wallet includes ticket booking and many more services.
The market is flooded with many E-wallets. If you are worried that there is no space for one more e- wallet.
Don't worry – It's never too late.
You can create even better e-wallet apps. It is the best time to invest in an e-wallet app development Company and gain good profit.
If you are thinking to build a feature-rich e-wallet app. In this blog, you'll get to know everything related to e-wallet apps and the cost of creating an e-wallet app.
What is an e-wallet app?
A digital wallet is also known as an e-wallet app. The E-wallet app is designed for simplifying cashless payments.
It is a digital wallet that allows end customers to make an online payment via, mobile phones. And stores user transaction information for different payment modes on various websites.
Plus, users can save their credit or debit card details and connect them with their bank account. The digital wallet can offer discount coupons with each payment.
PayPal One Touch, Apple Pay, and Google pay are widely known examples of digital wallets.
Also, it stores loyalty cards, gift cards, and many more. You can hire a custom e-wallet app development company that will help you in building a feature-rich e-wallet app.
Here are some of the benefits of the e-wallet app mentioned below.
It ensures efficiency and convenience for payment
Reduce abandoned carts
Increase conversion rate
Strong security
Lower transaction fees
Increase profits
Get easier refunds
Expand client bases
However, e-wallet have different types. Each type has specific features and usage which you'll get to know by reading the next section.
Types of e-wallets
E-wallet has certain functions depending on its type of structure.If you are planning to build an advanced feature rich e-wallet app you can hire dedicated developers.
Closed wallet
This wallet is great for companies that are selling any product or service. They can develop a closed wallet for their users. As they store the funds and make transactions only with the owner of the wallet.
Moreover, the user can easily store refunds, returns, and cancellations in the wallet. Amazon pay is a great example of a closed wallet.
Semi-closed wallet
Semi-closed wallet is helpful for users because it allows them to make transactions at listed merchants and locations.
However, for accepting payments from mobile wallets, merchants have to sign agreements or contracts with the issuers.
Open wallet
These wallets are mostly used by banks or institutes. Users can use an open wallet for all the transactions that are allowed with the semi-closed wallet.
In addition, they help in the withdrawal of funds from ATMs, banks, and the transfer of funds.
Now you know the types of e-wallets. You can easily decide which aligned best with your idea and you can hire a mobile app development company.
Benefits of building an e-wallet app in 2023
In, the above section we learn about different types of e-wallets. Now it's time to discuss about the benefits of building an e-wallet app in 2023.
Read further to know more.
High conversion rate
The best benefit of the e-wallet app is that it provides the user the convenience to purchase and payment services on the go.
Moreover, it accelerates the checkout process which will directly influence the user buying behavior and significantly bring more profit to you.
Give them this convenience by building an e-wallet app.
Reduce abandoned carts
This benefits retailer as they are left with fewer abandoned carts. Which is great for business.
Although, e-wallets help user to speed up buying process which directly increases the number of shoppers with completed purchases. Hire android app developers who will build the best e-wallet app for android users.
Low transaction fee
They have lower transaction fees that have high-interest rates on credit cards. Also, the merchant can issue their own payment cards.
Although it works like a gift card, that leaves the bank out of transaction loops with less transaction charge.
Easy refunds
Refunds and cancellations of an order are a part of the business. But with the help of digital payment apps, you can enhance the customer experience.
Moreover, it facilitates easy and quick refunds to customers. And can store the refund in the wallet itself so that the user shops more with the help of an app.
Expand Customer base
These apps are made to reach out to the customer quickly. Allow businesses to present themselves as reliable and trustworthy.
In addition, if your e-wallet is rich with advanced features it will significantly leave your competitor behind. Hire android app developers if you want to build an e-wallet app for android users.
Increased revenue
The significant benefit of e-wallets is that companies can offer discounts and coupons to stay in touch with their customers. This will increase the use time of customers.
Positively, increase sales opportunities in the long run.
Provide High security
As technology is expanding each day e-wallets become more secure for users. New technology will ensure the data security and transfer of money through technologies like tokenization and block chain.
Without a doubt, e-wallets will become more secure in the future and user data can only be accessed by themselves.
Multiple usages
Lastly, the benefits of e-wallet apps are increasing day by day. Whether users want to book flight tickets or buy clothes all can be done on the e-wallet app.
As I have said before about the benefits. There are unending services and benefits of e-wallet apps.
Cost of building an e-wallet app?
The cost always depends on several features that you want to include in your e-wallet app. Building an e-wallet app could be complex or easy depending on the mobile app development company.
It all depends on the features and services that it provides. Not only developers that are working to build an e-wallet app but also a team of designers, testers, project managers, and many more.
Also, the location factor affects the cost. For example- if you hire a team from the USA it will cost you more than the team from Ukraine.
The below table will give you an approximate idea related to the cost of the platform and chosen team.
| | | | |
| --- | --- | --- | --- |
| |       Cost/Hour |       Android |             iOS |
| User Panel | $20 | $15,000 to $ 25,000 | $ 18,000 to $ 30,000 |
| Admin Panel | $20 | $19,000- $46,000 | $25,000- $55,000 |
| App Marketing | – | ~$5000 | ~$7000 |
| | |
| --- | --- |
| Engagement Model | Cost |
| In-house team | $90,000 |
| The US development agency | $150,000 |
| Ukrainian outsourcing agency | $70,000 |
| Freelancers | $35,000 |
However, the e-wallet app development cost may range between $15,000 to $50,000.
Conclusion
By going through this blog. Now you know the benefits of building an e-wallet app in 2023. You can easily build e-wallet apps and find mobile app developers for hire.