How To Teach Swimming To Different Age Group Children?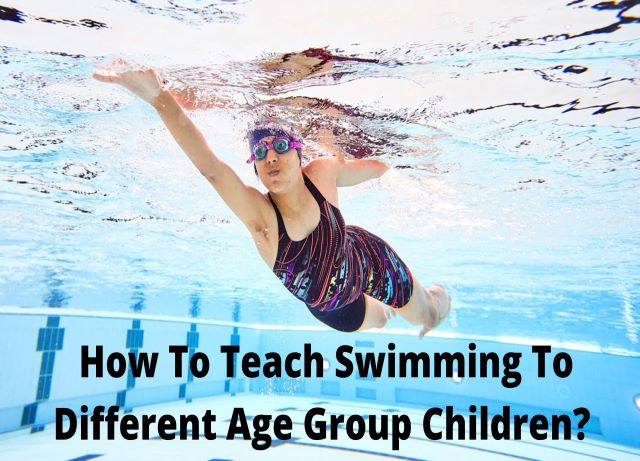 As a parent, it's important to ensure that your child learns water survival skills. Also, in Singapore, learning to swim is compulsory. It is because since 2014, the Ministry of Education has made swimming a compulsory part of schools' Physical Education programme.
Well, for better guidance, you need to select the right swimming academy. But, before choosing a kids swimming lessons in Singapore ensure that your child is ready. If not, then make them comfortable and then enroll their names for swimming classes.
Well, we have created a guide for parents that will help to treat their children differently (according to their age) while preparing them for swimming. Read on!
Tips To Teach Of Swimming For Different Age Groups Children
For your better knowledge below we have made a list of tips for swimming and kid's safety underwater. It will help you to know what tricks should be followed with different age groups kids. Read on!
Type 1. One To Two Years Old
Well, at the age between 1 to 2 years, a toddler needs your support. So, first of all, introduce your kid to the water. As a parent, you can play in the pool with your children. Furthermore, visit kids swimming lessons in Singapore with your child.
You need to focus on the kid's fun and make them more comfortable in the pool. Before they learn to swim, let them play and splash in the water.
Let your kids explore different activities like:
Make them learn how to splash
Singing inside the pool
Putting face in the swimming pool
Playing games gently in the water.
Read More: Choosing The Perfect Pool Lights For Your Swimming Pool Area
Tips For Kid's Water Safety
There are some steps that should be followed to protect your toddlers.
Don't leave your kid with any instructor. Always keep your kid in your arms.
Ensure not submerging toddler with older age group child. Also, check that your child shouldn't intake water. There are chances that kids might dilute the chemical which might cause nausea, seizure, and sleepiness. Sometimes water intoxication may cause severe issues.
Moreover, it would be great if you dress your child properly and provide them with a swim diaper, head mask, or anything you need. Giving a safety kit to kids helps you to prevent other swimmers from any infections.
Also, a toddler can't stay underwater for more than 30 seconds. That is why you have to be much aware of buckets, inflatable baby pools, tubs, and toilets.
Type 2. Two To Three Years Old
Well, sending your two to three years old kids to a swimming school requires a lot of attention.
As you know, at this age kids are more curious about learning new skills, so be extra attentive. They always need a guardian to hold them in the pool. Also, the swimming instructor has to be experienced in teaching swimming to the same age group students.
So, start fun activities and exciting games to encourage kids to move their arms. It will allow them to attempt kicking, floating on their back or stomach, and more. Also, remember supervision is very important whether your kid is 3 or 2 years old.
Tips For Kid's Water Safety
You should follow a few important tips to secure your kid underwater.
Don't let them swim alone because they might feel uncomfortable underwater. Even if your kid is confident even then observe them under as well around the water bodies.
Also, parents are responsible for checking all safety measures. Ensure the swimming pool gate is closed and its lock is out of kids' reach.
We would suggest you avoid inflatable flotation toys, water wings, and air-filled swimsuits. There are chances that your toddler might sink if they deflate. Also, these products might give them a false sense of security. But still, if you want to secure kids with safety equipment then the best option is to provide a life jacket for children.
Once the kids swimming lessonsare over, take their toys out of the pool. There are chances that your child will try to reach their toys and this might create an unwanted situation.
Type 3. Upto Five Years Old
By the age of 5, a child gets enough confidence to swim by themselves. So, enroll their names in the best swimming school in Singapore or the location you are living in.
Well, if you don't know much about swimming then make sure the coaches you are choosing must have a great experience. Ask them to allow you to attend the first class with your kid.
Well, in the formal swim classes an instructor will ask children to learn independently. Also, they will learn to keep their head in the water for about 5 to 10 seconds approx. Swimming classes for 4 to 5 years old kids will be followed to teach swimming skills as well as safety skills.
Tips For Kid's Water Safety
There are a few tips for the safety of your kids:
Your child will not need a parent inside the pool but still, need your support. You can watch out and supervise them from a distance.
Be calm with your child because they might not on the first day but later on they will start swimming well.
Check the height of the swimming pool with your kid's height.
A lifeguard is a must for 4 to 5 years old age group children.
Well, there are some kids who hate to put their heads inside the water. So, if your child is one of them then encourage them to do so. And they will learn to be comfortable in the water.
Type 4. Six Years Old And Older Children
Well, if a child is six years or older then they can easily hold their breath for a long time. Also, they can retrieve objects at the pool's bottom and swim underwater.
At this age, children can learn to jump in the water and resurface it by themselves. Furthermore, kids can start doing all swimming strokes, such as back and breaststroke.
The great endurance will make them swim long distances. But, note that 6 years old kids can swim independently but still they need time to master their swimming skills.
Tips For Kid's Water Safety
Below we have listed a few tips for water safety.
Even a great swimmer can drown so keep an eye on the water activities of your children.
Also, make a rule that your child will go to the pool only when their instructors are available. Encourage your kid to swim with someone around.
Ask their instructor to teach them to dive into the deep water.
If your child is on a lake or beach then you need to be extra vigilant. The swimming skills will not work near water bodies so be careful.
Instruct your child to wear a life jacket for extra safety underwater.
Conclusion
Yes, it is true that a child can learn to swim easily. But still, as a guardian, you need to take care of their safety practices. Also, choose the best swimming school in the Singaporeregion. Your half of the tension will be solved by choosing a great swimming academy and coach.
Our guide will provide you with a rough idea about ways to learn to swim. Also, implementing the tips will make you stress free about drowning. Hopefully, you have liked this article. Thank you for reading!